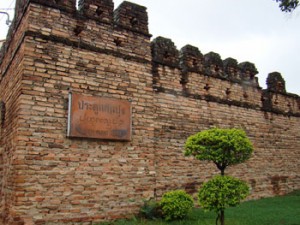 Sawat-dee-kahp. Good health and salutations from Chiang Mai, Thailand, where I have been attending a conference for the past ten days and playing the tourist in my spare time. My travels usually take me to Latin America, especially Mexico. My first visit to Thailand has been a unique and enjoyable experience.
Thais are hospitable, gracious and kindhearted towards the thousands of foreigners like me who come here to enjoy the amazing food, the tropical gardens, and the exotic wonders of this land of silk and tigers, ancient temples and elephants. Thai script is completely unintelligible to westerners and the Thai language is very complex. But because tourism is such a huge part of Chiang Mai's income, stores and restaurants often (mercifully) print signs and menus in both Thai and English, and many people here speak enough English to communicate with you on very basic levels. This makes the place quite accessible to a drop-in tourist like myself.
Chiang Mai is in the northern forests of Thailand, about equidistant between Burma and Laos. It was established as a trading center in 1296, and constructed as a walled city surrounded by a moat to protect against Burmese invasions. The moat, parts of the wall and its gates still survive, and have been re-purposed as a linear park that surrounds the city's core, a place where families and couples gather, and vendors set up tables in the cool of the evening to sell their wares.
Thailand's forests have been a major source of teak, a wood prized in boat building because if its resistance to rot. Around the turn of the century, Thai labor gangs felled heavy teak trees and used elephants to move the logs to a river, where they were floated to sawmills downstream. The British built a railroad into the area to encourage greater commerce, with the unintended effect of exposing the beauty of this country to the outside world and stimulating the tourist industry, still a major part of the economy to this day.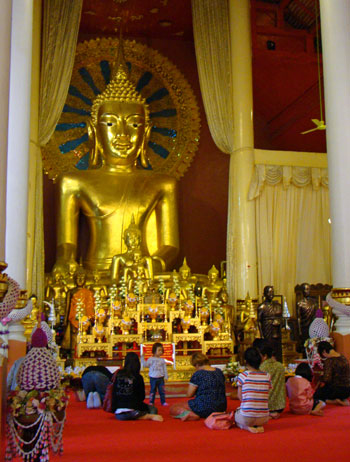 Thailand is about 95% Buddhist. Ornate Buddhist wats are found throughout the city, usually guarded by golden dragons and other mythological monsters. I took some time to visit the Wat Phrasingha where the huge Sing Buddha towers peacefully over the quiet room as men and women kneel down in prayer, or are blessed by monks sitting in meditation around the edge of the room. The Sing Buddha was a gift from a prince at the end of WWII, and has a particular pose that you see frequently in local Buddha statues: sitting in the typical cross-legged posture with the right hand draped over the knee and the left upturned in the Buddha's lap. When you enter the wat you leave your shoes outside, and a sign asks foreigners to "dress politely," offering wraps to women who are not adequately covered. There was no prohibition against taking photos, but I did so quietly and to the side, trying not to disturb the worshipers.
The standard greeting in Thailand is not a wave or a handshake but a wai: palms together with fingers pointing at the chin and thumbs against the chest, ended with a slight bow of the head. Even the Ronald McDonald statues in the ubiquitous fast food chain greet customers with a wai.
Thailand is a very respectful culture, and Thais pay special respect to the elderly, to Buddhist monks, and especially to their much beloved King, whose photo is displayed everywhere. Shop keepers will offer a wai when you enter the store and are delighted if you take the initiative to wai them upon entering. I watched an old man walking ahead of me on the sidewalk as he had to divert because of an obstruction by slightly moving into the entry of a Buddhist wat. Before continuing on, he stopped and bowed towards the temple, then continued on his way. A man sitting on a bench gave a bow to a friend passing by on a motorcycle. Thais seem to be used to tourists neglecting the wai, but appreciate it when we make the attempt. With a little practice, bowing becomes second nature.
On one of my walks through the city it occurred to me how quiet and orderly traffic was compared to Latin America. I don't think I've yet heard a horn honk here, and I haven't seen anyone driving aggressively. Getting across the busy streets as a pedestrian is challenging, but more because of the sheer flood of cars and motorbikes and tuk tuks pouring down the road, not because everyone is driving as fast as they can.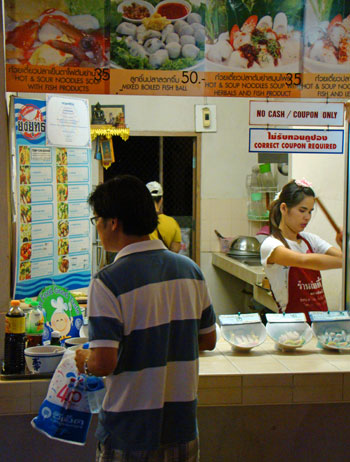 The flavors in Thai food are just amazing. I've always loved Thai cooking, which is frequently spicy and often makes liberal use of curry and coconut milk. I've tried a number of small, family run restaurants here, and the food has always been fresh and delicious. In many of these places the kitchen is out in the dining area, so you get to watch the cook preparing the meal, always in a wok heated over a gas flame. I had a Thai curry prawn dish where the prawns were a good six inches long from nose to tail. A friend took advantage of a day-long class in Thai cooking and came away with a better understanding of the local ingredients used. Of course, there are lots of places that cater to tourists, such as one restaurant positioned near the Tae Phae gate that claimed to have the best burritos this side of the Rio Grande River.
At sundown along the eastern side of the city, vendors set up tables and booths up and down the sidewalks, opening the popular "night market" to tourists and Thais alike. You'll find silk ties and Thai boxing shorts, silver and jade and turquoise jewelry, hand-painted enamelware, wood carvings of elephants and Buddhas, delicate flowers carved from bars of soap, knock off Rolex watches, art work, handicrafts, and t-shirts of every description. Prices are usually marked, but sticker price is just the starting point — vendors assume you will ask for a better price. "Just for you, American man, we give special discount."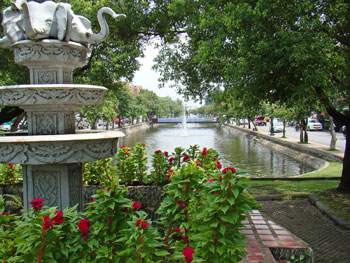 It's the rainy season now, with thunderstorms coming through almost every day. As I went out to stroll through the city on Sunday, a storm rolled in and I didn't have an umbrella. I ducked into a multistory electronics mall and spent some time looking around through dozens of stores selling computers, motherboards, chips, peripherals — and for some odd reason I'm not sure of, the hallways were lined with tables full of ladies' underwear. Maybe guys come looking for the hottest computer and drag along their girlfriends, who use the time to pick up a new bra?
Anyway, in a store that sold mice and game controllers I found a bin full of umbrellas with cartoon characters on them. I bought a blue one with two bears surrounded by hearts for $2.50, and it kept me dry for the rest of the day.
I'll be leaving about midnight, flying from here to Seoul, South Korea, then to LA, then down to Mexico for some more meetings. I have an 8-hour layover in Seoul, so I'm going to try to make a quick tour of the city if I can. Both my flights over the Pacific have been on Korean Air's new Airbus A380 double-decker jet, a very comfortable plane, especially for very long flights, but one so big that it is just plain disturbing to think that it can actually fly. More legroom than usual, though, and that is much appreciated.
I'll have more to say about my trip to Thailand in another post. If you ever get the chance to visit here, by all means do. Thailand is a beautiful country that goes out of its way to make guests feel welcome.