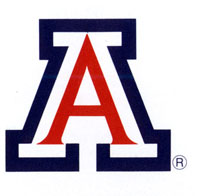 Tucson's University of Arizona Wildcats have danced to the Sweet Sixteen, a sweet result for a talented and hard-working group of student-athletes. Interim Coach Russ Pennell stepped into leadership in the fall and restored confidence and stability to the program after Coach Lute Olson's very public and mysterious breakdown. The program suffered from the messy transition.
Pennell is not flashy, not well-known, but he knows basketball, and he has been a rock of consistency and good cheer after so much turmoil.
The U of A barely made it into the NCAA championship because of some late-season losses, but we all knew they were a better team than their win-loss record showed. Their decisive wins over Utah and Cleveland State showed off their talents well and have proven that they deserved a place in the big dance.
I like their chances against Louisville on Friday. This young Arizona team seems to be working out the kinks in their play and "peaking" at just the right time. They've given us an exciting end to what began as a very sad season.
Go Cats!