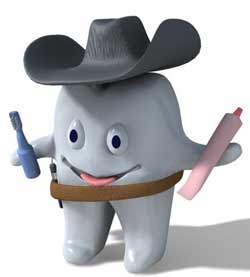 A couple of days into my recent trip to Mexico I developed a toothache. Not a please shoot me now! toothache, but the sort that makes you start avoiding one side of your mouth, like that neighborhood you stay out of after dark because it'll be trouble.
I could tell this was going to be an expensive toothache — the pain was deep down in the bone — so I flossed and brushed and hoped it might just go away. But like the Packers, my immune system let me down. My white cells just didn't leave it all on the field.
I went to my dentist, and after $250 of digital x-rays and a good cleaning he agreed that I had a real problem — one that he couldn't fix. He referred me to a young endodontist at Root-Canals-R-Us.
Waiting nervously in the comfortable waiting room, I hoped I might just get away with a prescription for some 21st-century antibiotics. Didn't DuPont coin the slogan better living through chemistry? Sure, they were thinking more about stain-resistant carpeting than rotting teeth, but… drilling seems so 1800's!
Young Dr. Dan sadly reported that he would have to drill, and to his credit the entire procedure was painless and stress-free. At my request, he gave me a running commentary as he worked. Now that I know how it's done, I might try to earn back Dr. Dan's $850 fee by opening a discount root-canal business in my garage.
Eleven hundred bucks so far, and in a few days I'll get fitted for a $500 cap — you can't leave holes in your teeth, I guess. I could have had a decent-sized plasma-screen TV for what I've sunk into saving this tooth.
If I hadn't had insurance or money in my piggy bank, my least expensive option would have been extraction. Which is why you see so many poor people with gaps in their smiles, like the young woman behind the counter at my local Burger King who smiles with her lips closed to hide her missing teeth.
Good teeth are one of the differences between the wealthy and the poor. We who can afford modern dentistry rarely give our teeth much thought. Others, like the young lady at Burger King, seem to think of little else.
In a new Pew Research poll cited here by Joe Carter of the Evangelical Outpost, Republicans and Democrats were asked to rank the top issues facing the country. I've listed 5 of the 21 issues raised and the percentage of Republicans vs. Democrats who see that concern as a "top priority".
Providing insurance to uninsured: R – 27%, D – 65%
Improving job situations: R – 43%, D – 76%
Reducing health care costs: R – 53%, D – 81%
Dealing with problems of the poor: R – 34%, D – 62%
Securing Medicare: R – 47%, D – 66%
The disconnect between the concerns of Republicans and Democrats is widest, in this survey, around this cluster of worries about jobs and health care. What explains it? Are Republicans simply better insured and more secure in their jobs? Do they feel disdain for the problems of the poor, as some claim? As a class, do Republicans have more money than Democrats?
In an analysis of the Forbes 400 Richest Americans, Val Burris of the University of Oregon found that 29% of the "newly rich" supported Democratic causes vs. 52% supporting Republican causes. Among the "old money rich," 19% leaned Democratic vs. 69% Republican. Those figures suggest something like a 2 to 1 ratio in America's wealthy class between Republicans and Democrats.
Does that suggest the opposite is true among the poor? And if so, are Republicans perhaps out of touch with the day-to-day concerns of working class America?
To be clear, I don't believe Dr. Dan overcharged me. He x-rayed my tooth with a $90,000 machine. His office employs a receptionist, two billing/records clerks, three endodontists and four technicians. He (thankfully) made use of costly anesthesia and antibacterial drugs. He is required to carry a very expensive malpractice policy and pays rent on a modest suite of offices in an expensive neighborhood. He employs a CPA to do his books and pay his employees' salaries and taxes. He has to remain licensed by the state, taking expensive courses to keep his knowledge current.
If the government insured us all, they would try to save money by putting the squeeze on Dr. Dan. That sort of squeeze is why so many doctors don't accept Medicare patients — government reimbursements fail to meet the doctor's expenses.
That sort of reimbursement squeeze has forced many English doctors to abandon their careers, forcing England to hire less qualified doctors from the second world. In Canada and England, health care is rationed to save money, which means long waits to see a doctor.
We would like America to be a just society. A system that favors the rich over the poor is not a just system. Are Americans smart enough to figure out a way to provide adequate health care for the poor, while not crushing the entrepreneurial incentives that drive talented doctors, creative pharmaceutical researchers and top-notch hospitals to solve our worst medical challenges?
Can we call ourselves a just society if good health care is only available to the privileged?
Image credit: mrcad.com