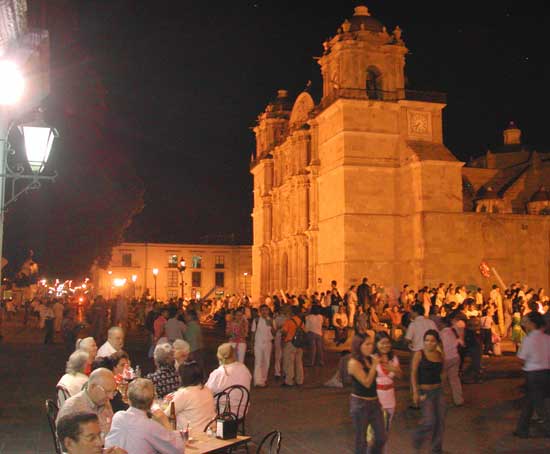 This was the scene in the Zocalo (town square) in Oaxaca, Mexico on Valentine's Day. I'm here on a long business trip and had a chance to visit Oaxaca's famous gathering spot for young and old.
The Zocalo was severely damaged in the recent unrest, but now that peace has been restored this ancient, tree-lined square has been cleaned up and the city is coming back again. Which means families, couples and tourists all strolling together along the streets and the cobblestone paths.
On Valentine's Day the Zocalo featured couples dancing to the music of a live band, children carrying heart-shaped balloons, young lovers holding hands in the shadows, and great food at the many sidewalk cafes. It was the sort of party-atmosphere that has been missing from this city for too many months now.
It's great to see joy again in Oaxaca.