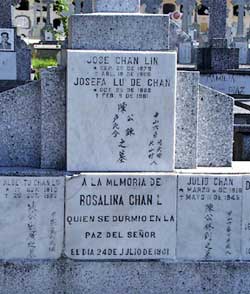 "On March 30 of 1854 about 1,600 Chinese laborers came to Panama by way of Canada and Jamaica to work on the Panama Railroad," according to Juan Tam of the Chinese Association of Panama. Today, Panama's Chinese-speaking community has been estimated at 150,000, with many more Panamanians having some Chinese blood in their family tree.
That was one of the surprises I found in Panama. I've been attending a conference in a section of Panama City that is favored by Panamanians of Chinese descent and recent Chinese immigrants. There are Chinese grocery stores, shelves lined with exotic spices. There are Chinese restaurants, of course, where both Chinese and Spanish are spoken. I even saw a combination Chinese video store and hair salon.
A short walk to the south from here I found an impressive-looking school, the Sun Yat Sen Center for Chinese-Panamanian Culture, named after the man known as the "father of modern China," Dr. Sun Yat Sen.
I also meandered through some nearby residential areas and found more evidence of prosperity here than I have seen in Mexico. The houses in this area are all in excellent repair, recently painted, with small, beautiful lawns and gardens. Every house had at least two cars, mostly recent models, with a great many SUVs.
There were wrought-iron security fences around the houses and over the windows, as in Mexico, but nowhere did I see the sort of extreme measures — high walls topped with broken glass — that are common elsewhere in Latin America.
I've enjoyed my stay in Panama. It's a beautiful country, with some of the friendliest people I've met anywhere. Tomorrow morning we fly home. I'll be sorry to leave.
Photo credit: The Panama News