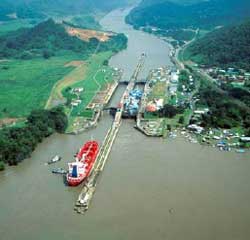 I'm in Panama this week for a conference, so I'll be blogging occasionally on my impressions. This is my first visit here. On Wednesday afternoon we'll go on a tour of the Panama Canal, which thrills my little engineer's heart.
The country is slightly smaller than South Carolina but has almost twice the coastline of the state of California, at about 2,500 km. Sandwiched as it is between the Pacific and the Atlantic, it's humid. The airport floor was moist with condensation and the air is thick. Coming from the dry desert climate of Tucson, I'm enjoying the change.
My taxi driver said that I'll find great seafood in any restaurant in Panama City. I intend to see if he's right.
Panama City by night seems very similar to Mexico City. Very cosmopolitan, lots of traffic, lots of indication of US investment. The dollar is the national currency, a pleasant surprise. Inflation is low and tourism is a big part of the economy.
I'll write about some of my other impressions as the week goes by.