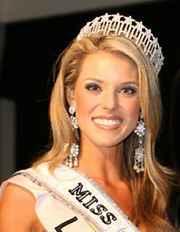 My interest in beauty pageants probably peaked when I was 15. These days, the closest I get is laughing at Sandra Bullock's send-up of beauty contests (scholarship programs!) in Miss Congeniality.
But I have been fascinated by the controversy over this weekend's Miss USA pageant, caused when Perez Hilton, a gay pageant judge, asked Miss California (Carrie Prejean) her opinion of same sex marriage, and poor Carrie had the temerity to ignore the cue cards and think for herself!
Her brief remarks have created a firestorm. After the show, an incensed Mr. Perez went on YouTube and called Prejean a "dumb b-ch" who gave the "worst pageant answer ever." A California pageant official has accused her of lacking compassion. You be the judge:
Perez Hilton, pageant judge: "Vermont recently became the fourth state to legalize same-sex marriage. Do you think every state should follow suit? Why or why not?"

Miss California, Carrie Prejean: "I think it's great Americans are able to choose one or the other. We live in a land that you can choose same-sex marriage or opposite marriage. And you know what, in my country, in my family, I think that I believe that a marriage should be between a man and a woman. No offense to anybody there, but that's how I was raised and that's how I think it should be — between a man and a woman." — transcript from Catholic Online
Pretty raw words for a beauty pageant. Alicia Jacobs, a former Miss Nevada and pageant judge, talks about her own shock and disgust in a blog entry she called Pretty is as pretty does:
I was STUNNED on several levels. First, how could this young woman NOT know her audience and judges? Let's not forget that the person asking the question is an openly gay man, at least 2 people on the judges panel are openly gay. Another judge has a sister in a gay marriage. … Did I mention I was STUNNED? I was also personally insulted & hurt. Prejean's words hit very close to home for me. Some of the most important people in my life, happen to be gay.
Oh, the humanity! Alas, there were too many hurt feelings, and Miss Prejean's answer eliminated her from the race for the crown.
I think it's interesting to compare Carrie Prejean's answer to a similar performance back in August. A young man in a beauty contest had been asked to submit to questioning in a similarly hostile environment. Do you remember? It took place at Pastor Rick Warren's Saddleback Civil Forum on the Presidency, on the night of August 16, 2008.
Here's what happened:
Rev. Warren: "Define marriage."

Sen. Obama: "I believe that marriage is the union between a man and a woman. Now, for me as a Christian, it's also a sacred union. You know, God's in the mix."

Rev. Warren: "Would you support a constitutional amendment with that definition?"

Sen. Obama: "No, I would not."

Rev. Warren: "Why not?"

Sen. Obama: "Because historically, we have not defined marriage in our Constitution. … I am not somebody who promotes same-sex marriage, but I do believe in civil unions." — Chicago Sun-Times blog
I've been parsing those two statements, Prejean's and Obama's, for quite some time, and I confess I don't see a hair's breadth of difference between them.
Despite the STUNNING callousness of his answer that night, and the young man's obvious lack of compassion for the gay community, Mr. Illinois somehow managed to win the crown.
Of the two, Prejean's reply took a good deal more courage. She was being questioned by a gay judge and a gay-friendly jury, after all. She surely knew that the response of her heart was not the answer this audience was looking for.
Obama, on the other hand, was speaking before a largely conservative audience in an evangelical church when he endorsed the traditional view of marriage. How hard was that?
I am inclined to think that Obama got a pass on this insult to his friends on the left precisely because they are his friends, and as such, they could be counted on to know when he was being honest, and when he was just being a good politician, saying what he needed to say to get elected.
The anger focused on Prejean, on the other hand, comes from the realization that she was very likely telling the truth about what she thinks, a truth many find offensive.
It's an interesting and instructive cultural moment, one of those 'ah-hah' moments when the curtain gets yanked aside and we get a quick glimpse of the Wizard back there, desperately trying to make himself look great and powerful by yanking levers and turning valves.
Mr. Perez's question was clearly intended to co-opt the pageant for his political ends. Jumping on the stage and shouting slogans would have accomplished the same thing, but far better if he could put his words into the mouths of some bright and beautiful young women. He is not dumb; he knew quite well that these contestants wanted desperately to look good in front of the judges and could be counted on to give the right sort of answers. Wink and nod.
Perhaps the Miss USA pageant itself, in selecting him as a judge in the first place, was announcing its willingness to have its little scholarship program co-opted by the cultural left.
None of them apparently considered the possibility that, hidden among all those plastic smiles, there might be one contestant with a mind of her own, and the backbone to say what she really thought.
They won't let that happen again.
Photo credit: San Diego Christian College