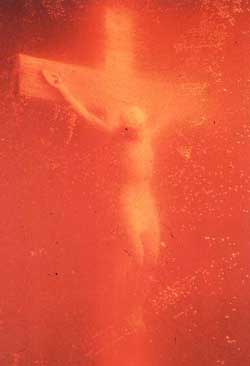 Post-modernism enjoys mocking the sacred. The "artist" Andres Serrano won acclaim for sinking a crucifix in a urine-filled jar. Chris Ofili got applause for covering the Virgin Mary with elephant dung. The Da Vinci Code imagines Jesus hitched to Mary Magdalene. The Book of Daniel depicts Jesus as a New Age therapist. Rolling Stone encourages Kanye West's messiah complex by putting him on their cover, bleeding from a crown of thorns.
God doesn't get much respect these days.
Mocking the sacred used to be out of bounds, but the lines have been moved. Faith and faith's symbols are fair game for ridicule because the cult of free speech trumps traditional religion. Taboos still exist, but blasphemy is not one of them.
(One doubts, for instance, that a piece called Piss Betty Friedan could ever find its way into the Guggenheim.)
So, in this rich, progressive tradition of mocking the sacred, a Denmark newspaper decided to poke a little fun at the prophet Mohammed. And, to their chagrin, Muslims didn't seem to get the joke. Instead of boycotting salted herring, they made death threats. Instead of writing earnest letters to the editor, they burned embassies. It seems these Muslims take their sacred symbols rather seriously.
US news organizations suddenly feel cowed by fears of reprisals. On the one hand, there is The First Amendment™. On the other hand, there's Salman Rushdie, who is still looking over his shoulder ever since he wrote The Satanic Verses, and the director Theo van Gogh, who was shot and stabbed to death for offending Muslims with his film Submission. Some of these Muslims play for keeps.
Among the brave pronouncements by US talking heads are these:
The U.S. news media, by refusing to run these cartoons, are giving in to intellectual and religious terrorism. A separate standard is being applied here out of fear of physical retaliation. —Alan Dershowitz
I think that if there's a free press, there's a right to commit blasphemy. —Jack Shafer, Slate
Christians have become accustomed to artists' offending their religious symbols. They can protest … but the right of the individual to say or depict offensive messages or symbols is not really in dispute. —Andrew Sullivan
And yet, oddly, these cartoons have not found their way into the US media. Lots of brave words, but not much action. Interesting.
Actually, I'm not suggesting a deliberate campaign aimed at insulting Muslims. Nor do we need a quota system designed to assure that every faith is insulted equally. (It's Tuesday, so it must be Bash Buddhists day!)
What I'm suggesting is a bit of liberal soul searching. What's with this infantile need to insult people of faith? Universities have been eager to embrace hate speech codes prohibiting slurs based on ethnicity or gender or sexual orientation — why are slurs against religious beliefs and sacred symbols permissible in a liberal society?
I'm not suggesting a ban on criticism. Intelligent people ought to be able to engage vigorously in free speech without sinking to insults, mockery or blasphemy.
It feels liberating to break taboos, but we may not be a better society for it. We often hear talk of the "culture wars." Is it possible that in this area we could agree to a truce? Would there be any great harm to the cause of progressivism if religion and religious people were treated with a modicum of respect?
Update: There is much being written in the ether about these cartoons and freedom of speech. Two I recommend are Us, Them and the Rest by Joe Carter (Evangelical Outpost), and Does the press have the right to mock religions? by Mollie Ziegler (Get Religion). Good perspectives, worth reading.