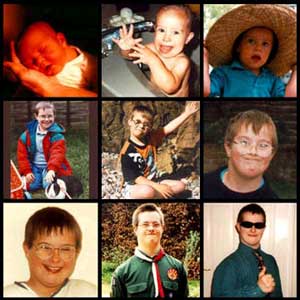 Margaret Bauer was born with Down syndrome, an increasingly rare genetic disorder. Rare because it has been cured? No, rare because pre-natal testing has led an estimated 80-90% of pregnant women to abort these children before they are born.
Patricia Bauer, a former Washington Post reporter, has written a heartrending piece for the Post titled The Abortion Debate No One Wants to Have. (Thanks for this link go to Daniel Pulliam of Get Religion.)
Bauer questions what has become unquestioned medical and ethical doctrine since the advent of prenatal testing: A life with a disability is a life not worth living.
This is exactly the judgment that has been codified in the Netherlands as the Groningen Protocol, the only difference being that doctors there are making the very same judgments about young children, and are euthanizing them. (See my post on the issue here, from 3/dec/2004, and a related post on conjoined twins Brynleigh and Victoria, When Dreams Become Dust.)
Imagine. As Margaret bounces through life, especially out here in the land of the perfect body, I see the way people look at her: curious, surprised, sometimes wary, occasionally disapproving or alarmed. I know that most women of childbearing age that we may encounter have judged her and her cohort, and have found their lives to be not worth living.
To them, Margaret falls into the category of avoidable human suffering. At best, a tragic mistake. At worst, a living embodiment of the pro-life movement. Less than human. A drain on society. That someone I love is regarded this way is unspeakably painful to me.
… What I don't understand is how we as a society can tacitly write off a whole group of people as having no value. I'd like to think that it's time to put that particular piece of baggage on the table and talk about it, but I'm not optimistic.
What sort of society are we if we can only find love in our hearts for the beautiful people?