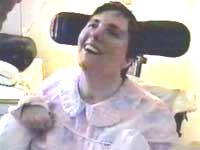 Perhaps as early as this afternoon, a judge will decide whether Terri Schiavo lives or dies.
Briefly, this vibrant young, Floridian became severely brain damaged. Her husband believes she would not wish to have her life sustained "artificially" and is seeking legal permission to stop feeding her. Terry's parents wish to provide her with the care she needs to live, and are attempting to save her life.
Terri is not in a coma. She is not in what we usually think of as a "persistent, vegetative state," a phrase I despise because it equates human beings with cabbages.
Terri's eyes are open and they follow stimuli. She has facial expressions. She makes sounds. She laughs. She moves. She is unable to leave her bed or feed herself. Think of a child of 6 months, trapped in an adult body.
In my view, Terri is no different from a great many people in the advanced stages of Alzheimer's, ALS, brain cancer, and other neurological diseases. In such cases, we have not yet as a society advocated starvation or less painful forms of euthanasia as a way of speeding the inevitable end, and it would be a terrible mistake to permit such a thing.
By PETA standards, we should not allow sentient creatures to be subjected to painful procedures against their will.
By NARAL standards, a mother has a greater right to determine the fate of her own daughter than any court.
By the ethical standards of Peter Singer, a "person" has full human rights when he or she becomes cognizant of his own existence.
By Jesus' standards, our treatment of the least capable human being reflects our attitude towards God himself.
By every enlightened, ethical standard, Terri Schiavo deserves to live. Pray for a decision that will reaffirm the preciousness of human life and our obligation to serve and care for those who are unable to care for themselves.
Update (25/feb/05): The judge has ruled that Michael Schiavo, Terri's husband, may remove her feeding tube on March 18, three weeks from today.