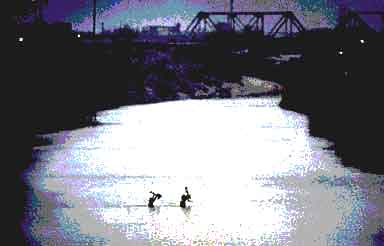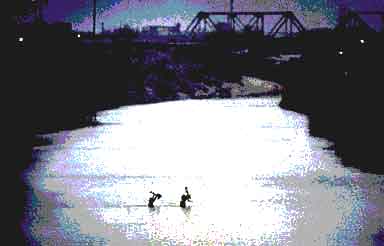 One in twenty American workers are in the US illegally. Adding wives, children and other family members, estimates for undocumented immigrants range between 9 and 11 million. More than half of those are Mexicans, and despite a trebling of spending on border security, the number of illegal border crossings continues to rise.
In this series of posts, I hope to put a human face on Mexican immigration, to examine the forces that drive Mexicans to America, and to consider American immigration policy in light of Christian ethical principles.
My primary question is this: Does America have a moral duty towards Mexico, and if so, what polices should we implement to balance internal security on the one hand with a humane response to Mexico's economic challenges on the other?
---
Do not exploit the foreigners who live in your land. They should be treated like everyone else, and you must love them as you love yourself. Remember that you were once foreigners in the land of Egypt. I, the Lord, am your God. —Leviticus 19:33-34, NLT
The amount of money sent to Mexico [by undocumented immigrants] has increased dramatically from $9.2 billion in 2001 to $13.2 billion in 2003, a growth of 43%. … The cost of sending the amount of an average remittance to Mexico, now about $400, has come down somewhat… from 6.29% of the amount sent in 2001 to 4.4% in 2004. —Dr. Manuel Orozco, Pew Hispanic Center
We are the world's greatest economic power. We pride ourselves on being a generous people who are quick to provide humanitarian aid across the globe. We think of ourselves as a Christian nation, a moral nation, a good nation. But we find ourselves deeply divided by the challenges posed by undocumented immigrants.
Driven by a lack of opportunity, millions of Mexicans have entered America illegally. They harvest and prepare our food, they build our homes and offices, they pick up our garbage, they clean our toilets and scrub our floors, they mow our yards.
According to Jeffrey Passel of the Pew Hispanic Center, 25% of drywall installers are undocumented immigrants. Ditto for groundskeepers, poultry workers and dishwashers. 20% of maids, painters, construction laborers and agricultural workers are undocumented immigrants. They labor at the bottom, in some of the most thankless and difficult jobs in our economy.
Contrary to popular stereotypes, fewer than half are single men. The majority of undocumented immigrants are married couples, many with children. There are 3 million children among them who were born in the US, and another 1.6 million who were born outside of the US, according the Pew Hispanic Center. Undocumented immigrants are primarily young, most under the age of 40, and among the men, the employment rate is nearly 100%.
Undocumented immigrants are big business. Mainline banks and wire transfer companies seek them out because the transfer of earnings from US undocumented workers to their families in Mexico generates three-quarters of a billion dollars in fees annually, and it's a growth business. By comparison, Wells Fargo bank says it generates about $50 million annually from those hated ATM fees, and analysts estimate that Bank of America takes in about 4 times that. Undocumented workers are cash cows.
Human smuggling is a growth industry, too. "It used to be your friend or uncle would smuggle you in. Now, it's in the hands of the professionals," says Deborah Meyers of the Migration Policy Institute. Better border security has created a market for people who specialize in beating the system. With these "coyotes" charging more than $1,000 per person, and some 800,000 immigrants entering the country annually… well, you can do the math.
How did it come to this?
From 1942 through 1964, a period of over 20 years, the United States government had a formal agreement with Mexico for the supply of seasonal agricultural workers to the US. This Bracero Program provided the labor force needed to maintain US agricultural production during World War II. To protect workers' rights, formal contracts spelled out their wages, housing, working conditions, and every aspect of their employment. To guarantee that they would return to Mexico at the end of their contract, 10% of their earnings was paid directly to the Mexican government, to be refunded when they came home.
4.5
million Mexicans participated in the Bracero Program. Although successful, it was known to be "riddled with abuses," according to Doris Meissner of the Migration Policy Institute. One example: few braceros were ever paid their 10% upon returning to Mexico. The money simply disappeared.
The lasting effect of the Bracero Program, however, is that it established and institutionalized networks and labor market relationships between Mexico and the United States that really are… the basis for the undocumented or illegal migration that has characterized the decades since… [T]he fact that… the agreement between the United States and Mexico ended did not… affect the actual behavior that had been established during those 20-plus years, and that simply morphed into what we're dealing with today. —Doris Meissner, Migration Policy Institute, in a panel discussion by The Urban Institute, February 03, 2004
To put it bluntly, at a critical time, when the US labor force was stretched to the breaking point, Mexican men left their homes, came north by the hundreds of thousands and kept America fed.
Our shared history on this continent has not always been so altruistic.
America's vision of Manifest Destiny led it into war with Mexico in 1846. The war ended in 1848 when US General Winfield Scott invaded Mexico City and America demanded all of the present-day southwestern US. In the end, we paid Mexico $25 million for everything from Texas to California. Not a bad deal.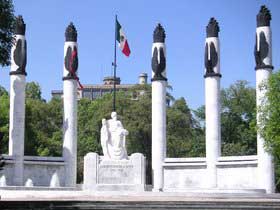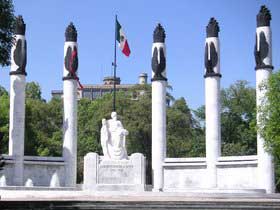 There remains today in Mexico City a soaring monument to "Los Niños Heroes" (The Boy Heroes), six teen-aged military cadets who failed in their defense of Chapultepec Castle and threw themselves off a cliff rather than surrender to General Scott's superior forces.
The Bracero Program put the final nail in the coffin of Mexican/American animosity and opened a new chapter of cooperation, culminating in the 1993 passage of NAFTA, which formally acknowledges that America has much more to gain by seeing Mexico as a strategic economic partner than as a competitor.
Some would now like to turn back the clock. Some are suggesting it is time to hermetically seal the US/Mexican border.
Thats one solution. But it's not a solution that honors the history of US/Mexico cooperation, nor is it a fitting solution for a great nation, a humane nation, a Christian nation.
Mexico needs jobs. America needs workers. But in the post-9/11 world, America also needs security. So, what's the solution?
---
Sources: TransFair USA, Pew Hispanic Center, The Ethnologue, Urban Institute, The Arizona Republic, Migration Policy Institute, CIA World Factbook, NationMaster.