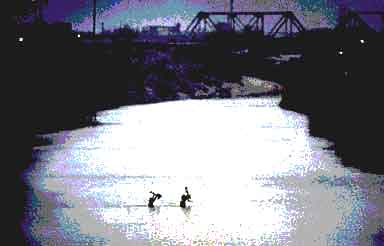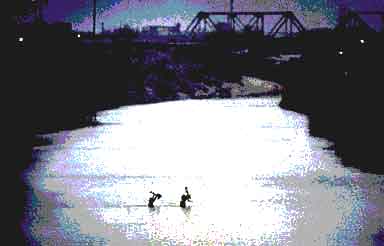 One in twenty American workers are in the US illegally. Adding wives, children and other family members, estimates for undocumented immigrants range between 9 and 11 million. More than half of those are Mexicans, and despite a trebling of spending on border security, the number of illegal border crossings continues to rise.
In this series of posts, I hope to put a human face on Mexican immigration, to examine the forces that drive Mexicans to America, and to consider American immigration policy in light of Christian ethical principles.
My primary question is this: Does America have a moral duty towards Mexico, and if so, what polices should we implement to balance internal security on the one hand with a humane response to Mexico's economic challenges on the other?
---
'For I was hungry, and you fed me. I was thirsty, and you gave me a drink. I was a stranger, and you invited me into your home. I was naked, and you gave me clothing. I was sick, and you cared for me. I was in prison, and you visited me.'
Then these righteous ones will reply, 'Lord, when did we ever see you hungry?…'
And the King will tell them, 'I assure you, when you did [these things] to one of the least of these my brothers and sisters, you were doing it to me.' —Matthew 25:35-40, NLT (Jesus speaking)
The forces that are driving people out of Mexico and pulling them into the United States are still extremely strong and haven't diminished in the last 10 years. If anything, they've intensified. —Wayne Cornelius, Center for Comparative Studies, UC San Diego
Alfonso† has lived his entire life in a small cluster of villages perched on a lush mountain range in rural Mexico. His ancestors once ruled this country, until Cortez dropped anchor in Veracruz and burned his ships, because he planned to stay.
Those were better days.
Alfonso's mother tongue is not Spanish, but one of Mexico's 291 indigenous languages. He rises before dawn every morning and heads out with his brothers, uncles and father to tend the corn and coffee that thrives on these slopes. While the men tend the fields, the women gather firewood and haul water up from the river in the valley below.
Alfonso's home is built of rough-sawn planks and roofed with corrugated tin imprinted with soup-can labels, rejects from a canning company. His windows have no glass; chickens roam freely in and out of the open front door.
Maria, his mother, cooks over an open fire. Smoke escapes from cracks in the walls as she bakes tortillas on a clay platter. The chickens provide eggs. Black beans simmer in a pot. There is no meat.
Maria's eyes have turned cloudy from a life spent standing over smoky fires. She is bent and bowlegged from carrying heavy loads, and from a diet low in fruits and vegetables. To an outsider, life here seems impossibly difficult. To Alfonso, this is just the way life has always been.
Except for one thing: coffee used to support his family, but no longer. Globalization has forced small farmers like Alfonso to compete with plantations in Vietnam, where government programs have made them the world's second largest producer. Asian coffee has flooded the market, causing prices to plummet—good news for coffee lovers; bad news for growers.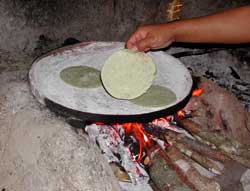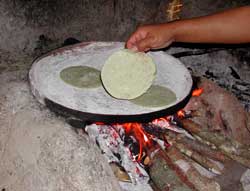 TransFair USA is a non-profit, Fair Trade organization that seeks to guarantee small farmers a minimum, fair price for their coffee. According to TransFair:
Coffee prices on the world market slid to an all-time low in 2002 of 45 cents per pound—well below the costs of production—and led to escalating unemployment, landlessness, and hunger among small-scale farmers…
To make matters worse, most small-scale farmers, who are not organized in marketing cooperatives, must sell to middlemen, capturing a mere 2% to 4% of the retail price of coffee.
They go on to report that the average $3 latte delivers less than 2 cents back to farmers like Alfonso, who don't benefit from Fair Trade agreements.
Caught in a global vise, Alfonso looks north to a place where farm laborers earn more in a few weeks picking strawberries than coffee pays in a year.
But getting to America will cost him dearly. Besides food, clothing and a bus ticket to the border, a "coyote" will charge Alfonso $1,500 or more to smuggle him to safety. He'll be deposited in the Arizona desert and told to walk north to a rendezvous point. What he won't be told is that he may have to cover 100 miles, surviving heat by day and cold at night, all while dodging the Border Patrol. If he survives—hundreds die in the attempt every year—he may be robbed and abandoned by the very coyote who promised to help him.
And if he makes it?
He will be driven to a rough hut where he will live with other workers, none of whom will speak his language. He will try to live below the radar. If he gets hurt, he will treat himself. If his boss cheats him, he will not report it. He will surface only long enough to work, buy food and send money home to his family.
At night, he will be lonely. If he is married, his children may forget what he looks like. His marriage may suffer from the long separation. Because of the tighter border security, Alfonso will not leave again for a very long time. The risks and costs of going back and forth are simply too great.
Knowing all of these things, knowing the hardships and risks, what drives the Alfonsos of Mexico to keep coming to America?
That's easy: There are jobs in America. There is hope in America. In many parts of Mexico, there is neither.
---
†
Mexican names and situations are fictional, but represent typical undocumented immigrants.
Sources: TransFair USA, Pew Hispanic Center, The Ethnologue, Urban Institute, The Arizona Republic, CIA World Factbook, NationMaster.