Here in 1944 Europe was liberated by the heroism of the Allied forces. — Inscription on a commemorative stele overlooking the port of Avranches, France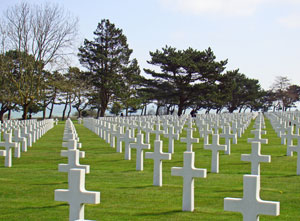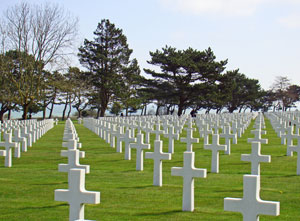 Operation Overlord, the code name for the Allied invasion of Europe, began on D-Day, June 6, 1944, with a combined assault on the coast of Normandy by paratroopers, Navy gunners and 175,000 foot soldiers attacking from the beaches. Most of the invasion force consisted of young men who had never strayed far from their home towns. They crossed the Atlantic with a combination of youthful bravado and apprehension, and on D-Day they took their first steps on the European mainland.
Taking those steps meant leaping from small landing craft and struggling through the pounding surf while dodging machine gun and mortar fire. They bravely fought their way up steep embankments at places code-named Omaha, Sword, Utah, Gold and Juno, while Army Rangers assaulted the Nazi cliff-top fortress at Pointe du Hoc.
10,000 Allied soldiers were killed or wounded on that day, along with some 9,000 Germans. Many from both sides are buried in the green fields of Normandy, with the American Cemetery sited on the windswept heights above Omaha beach, near Colleville-sur-Mer, on the very land where Americans gained their first bloody victory in the long battle for European liberation.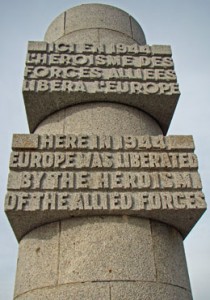 The history of Europe was forever changed by those heroic young men whose sacrifice has been appropriately immortalized at the American Cemetery. There they are forever at rest from war beneath rank after rank of white marble crosses and stars of David planted in a sloping field of lush, green grass.
The history of America was forever changed, as well, by a generation who survived the horrors of war and came back different from when they left, and by the loss of thousands whose young minds and hearts would never return from their long journey across the ocean.
Wherever I have traveled in France, I've found memorials to those who have died fighting for her freedom. Stone crosses and monuments stand here and there along the highways. Great cities and small towns have raised soaring statues in the most public of places to honor those who fell trying to protect France from her enemies.
I think it's interesting, and quite fitting, that these memorials have not been relegated to hidden corners of a local cemetery. They are appropriately front and center in the country's many squares and parks, and in her consciousness, a very public reminder of the hefty price France has paid for her freedom.
Whatever political differences exist between our two nations today, the French people continue to be generous in their praise for the immeasurable Allied sacrifice that liberated Europe from the Nazis.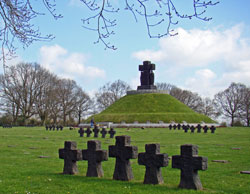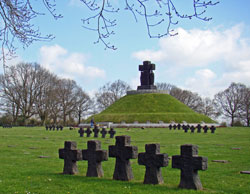 I was touched, too, by the remarkable grace France has shown Germany in situating a cemetery for German war dead just a dozen kilometers from Omaha beach, near the historic city of Bayeux. It is a stark and somber place, with huddled groups of heavy, black crosses, the individual graves marked by simple square tablets. Walking there was deeply troubling; I couldn't help wonder how so many bright, young men could have been caught up in Hitler's madness.
The world has not yet learned how to live in peace. Islamic extremism may be more disorganized than Hitler's Third Reich, but it is every bit as dedicated to forcible conquest, and every bit as willing to shed innocent blood to achieve its ends.
American men and women are still being asked to lay down their lives in far off lands in order to safeguard our freedom and security. Politics has created doubts and divisions about the value of their mission, but it cannot diminish the honor they bring to themselves by the sacrifice they make for their country, and their comrades in arms.
For everything there is a season, a time for every activity under heaven. A time to be born and a time to die. A time to plant and a time to harvest. A time to kill and a time to heal. A time to tear down and a time to build up. A time to cry and a time to laugh. A time to grieve and a time to dance. A time to scatter stones and a time to gather stones. A time to embrace and a time to turn away. A time to search and a time to quit searching. A time to keep and a time to throw away. A time to tear and a time to mend. A time to be quiet and a time to speak. A time to love and a time to hate. A time for war and a time for peace. — Ecclesiastes 3:1-8, NLT
May the Lord soon bring us to that long-awaited time of peace.