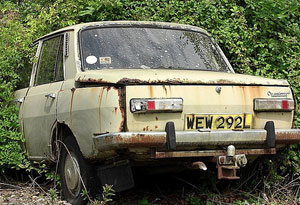 The British are a race of Pygmies. I first discovered this fact when my boss' comely daughter asked me to fix her recalcitrant MGB GT. I knew cars, and it seemed like a good way to score some points with my boss, and his pretty daughter.
So I took the keys and attempted to take the car for a spin.
With the driver's seat shoved all the way back and my 6′ 3″ frame crammed into the cockpit, my shins were wedged against the dashboard, my knees straddled the steering wheel and my head was bent 90 degrees to the right. Closing the door would have crushed my left kneecap, so I left it ajar for the short drive — very short, since with my legs bent double I could only lightly dance across the pedals with my toes.
In Greek mythology, Procrustes, a wicked blacksmith, used to invite guests to stay overnight in his home. If they were too short for his guest bed, he would stretch them to fit. If too tall, he would amputate their legs.
If the Brits had been smart, they could have increased the MG's market share by resorting to Procrustean human re-engineering…
Of the sort the President's health care plan will have to depend on. To save money and make everything efficient, a Health Commission (presumably run by a distant relative of Procrustes) will design a one-size-fits-all health model. My company's self-funded ERISA plan, which currently offers an affordable and modest package of benefits, will have to be stretched and hacked to fit Washington's ideal. Instead of deciding for myself what sort of coverage fits me best, an unelected, unaccountable Washington Health Commissar will call the shots, and I'll just have to pony up the cash to pay for it.
He'll stretch some of us on the rack and perform amputations on others. The elderly will be encouraged to do without those expensive hip replacements and pacemakers. Diabetics will all use the same, cranky, Soviet-era insulin pumps. Expensive new meds will be discouraged when old meds work pretty well. Innovation will take a back seat to saving money, getting the biggest bang for our tax dollars.
British sports cars were notorious for breaking down when you needed them most. They looked sexy on a track going fast, but peek under the hood and you'd discover an awful mess. Kind of like the British health care system of today.
And like the American health care system of tomorrow, if Congress and the President get their way.
Photo credit: Flickr, Lady Wulfrun