"Then Aslan isn't safe?" asked Lucy.

"Safe?" said Mr. Beaver. "Don't you hear what Mrs. Beaver tells you? Who said anything about safe? 'Course he isn't safe. But he's good. He's the King, I tell you." — The Lion, The Witch and the Wardrobe, C.S. Lewis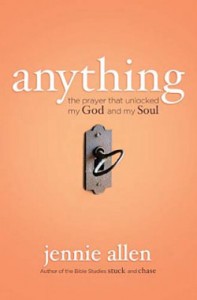 What might happen if I put my career, my hopes and desires, my present and my future all into God's hands and prayed a simple but sincere prayer, "Lord, I will do anything you ask. Anything."
That prayer, and God's response to it is the life-changing challenge of Jennie Allen's new book "Anything: the prayer that unlocked my God and my Soul." (Thomas Nelson, Inc., 2011).
The Jesus of the New Testament made people uncomfortable, he shook up the status quo, he asked his disciples to set aside everything that competed with him. And in response to his challenge in their lives, the book of Acts shows how those ordinary Galileans changed history. But a case can be made that we have made the Jesus of American Christianity into a soft-spoken, smiling Mr. Rogers, and our churches into places where we can all relax in our sweaters and slippers until heaven arrives.
Jennie Allen's dreams included all the normal Hallmark card sweetness of a nice home, a loving husband, beautiful children, pleasant neighbors, and a faith that was challenging without being rude. But something a professor had said to her years earlier kept coming back to her: God becomes most real when we risk placing our lives and our future into his unseen hands and wait for him to come through.
If C.S. Lewis is right and God isn't safe, we should be surprised that our faith has led us to settle down into a quiet cul-de-sac where we can watch eternity go by on our wide-screen TVs. And if he is also right that God is good, we can trust him, even when he leads us far out of our comfort zones.
Jennie Allen's "Anything" is a challenging and engaging journal of the faith journey God took her on as she asked the questions we all ask, "Who is God and what does he want from me?" It is written in the intimate, conversational style of a friend who opens her heart across the table in your local coffee shop, but it's one of those conversations where you walk away knowing that the Spirit has just challenged you to re-examine your faith, your priorities, and every assumption you have made about God's desires for your life.
Joy comes from giving yourself entirely and unreservedly to God. Like ripping a Band-Aid off, giving in, yielding everything, and dying to this life and all we think we want in it — something about that sets you free.

Everything I was worried about didn't seem so important. Everything I was afraid of didn't seem that scary. Everything I wanted before seemed trite. Everything I doubted about God seemed foolish.

Instead, I felt as though God had placed me in a new reality; a new story that would climax when I met him face-to-face in heaven…

Jesus says the way we glorify God, the way we step into his story, is by accomplishing the work God gives us to do. Jesus glorified his father on earth by doing that very thing. We play our part in his story, and the beauty is, it was what we were made for.

— excerpt from Anything, by Jennie Allen
Human nature lulls us into quietness and routine. If Christianity has become a toothless, hobbled lion, it is not because God has changed. In Anything, Jennie Allen issues a challenge to Christians to set God free to work powerfully in us and through us, beginning with a simple but bold prayer, "Anything, Lord. I will do anything you ask."