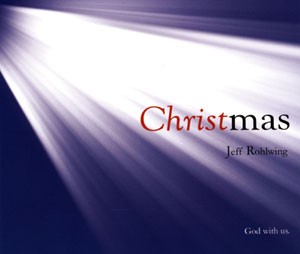 One of the best things about Christmas is the music. I have a pretty eclectic collection, including Bing Crosby, Barbra Streisand, Mannheim Steamroller, Anuna and, of course, Handel's Messiah. Last night I attended a concert where my musical friend, Jeff Rohlwing, performed songs from his newly-released CD called, Christmas.
Jeff Rohlwing's Christmas is a wonderful compilation of traditional Christian hymns performed on acoustic guitar or piano with Jeff supplying the vocals. His arrangements are fresh but respectful of the important place these songs have in our hearts. The entire album has just the right feel for a cold evening in front of a fireplace with friends. Jeff's guitar work just gets better and better, and he is joined on this album by Casey Parr on bass, and by another good friend, Marie Davis on violin.
(As an act of full disclosure, Jeff credits me as a producer on this CD. In truth, "producing" means I listened to an early version of the album and gave Jeff some feedback on his work. My only compensation is that he allowed me to sing harmony with him last night on Infant Holy. Not on the album, though. Jeff is generous, but not stupid.)
Jeff Rohlwing is a professional Christian singer and songwriter who performs in concert at churches, mostly in the western US. He and his wife, Jenn, are friends, but I push his music here because I respect the gift God has given him, and the way he is putting it to use encouraging God's people.
You can hear some samples from Christmas and order any of Jeff's CDs at Jeff Rohlwing Ministries. Or, visit the Itunes store and download Christmas right into your Ipod.
Buy several. They'll make great gifts for your friends. Especially if, like me, you haven't yet started your Christmas shopping.