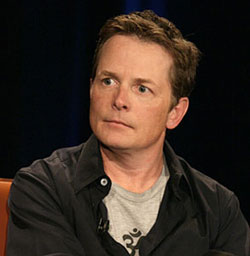 It really isn't important whether Michael J Fox deliberately reduced his medication to amplify the effects of his Parkinson's disease for a political ad. He's done so at least once before, in the fall of 1999 when he testified at a hearing chaired by Sen. Arlen Specter on the National Institutes of Health budget.
Fox does this because he knows he's living on borrowed time. Medical science can only offer a limited and temporary attenuation of the symptoms of his disease; there is no cure. With every passing year, Parkinson's steals more muscle control from its victims until they are finally left unable to speak or swallow or move without assistance.
Facing such a grim future, who can blame Michael Fox for using his star-power — and shock tactics — to campaign for a cure?
Parkinson's is a degenerative disease that destroys the brain's dopamine-producing cells. Dopamine is a neurotransmitter that is indispensable for muscle movement. Without dopamine, electrical signals are short-circuited causing twitches and tremors, muscle weakness, loss of balance and rigidity. (For more information, go to Parkinson's Action Network or The Michael J Fox Foundation.)
Parkinson's eventually progresses to a point where medical science has nothing to offer. At the end of his life, Congressman Morris K Udall of Arizona, a bright, articulate, well-liked politician, was confined to his hospital bed unable to speak or move, completely lucid but utterly trapped in the life of his mind.
When the Fox controversy erupted, I had just finished Morton Kondracke's bitter-sweet tribute to his wife's battle with Parkinson's Disease: Saving Milly: Love, Politics, and Parkinson's Disease. Kondracke is a journalist, a well-known political commentator for Fox News, and a former regular on John McLaughlin's weekly analysis show "The McLaughlin Group."
Milly Kondracke was the picture of health before she began noticing a slight but uncontrolled trembling in her hand. She could tell that her handwriting was getting sloppier and it worried her. Mort just chalked it up to his wife's penchant for perfectionism.
That was 1987. Within a year, the tremors had worsened. She sought the opinion of a number of doctors and their diagnoses varied. After another year, her worst fears were confirmed — Milly had Parkinson's. In fact, she had a particularly aggressive form of the disease that doctors call "Parkinson's-plus."
Mort writes with remarkable honesty that neither Milly nor his two daughters thought he would be able to handle the kind of challenges Milly's Parkinson's would present. It was Milly who had held the family together while Mort was off building his career.
He was embarrassed and humbled by their lack of confidence. He knew he had to get this right. He owed it to Milly to get this right.
"You don't know what Parkinson's does to people. You'll have to take me to the bathroom. You'll have to feed me. You won't want to do that," she said.

I said rather automatically that I didn't care what happened, I'd never leave her. I meant this, too, although she was correct. I knew nothing about Parkinson's or the extreme disabilities it could cause. …

So far, I think I have fulfilled my vow to do this one thing well — to "take care of Milly." In the process I've become a different, better person — someone I never expected to be. I have put someone else's happiness ahead of my own. And I've become dedicated to causes greater than my own advancement… I am not a saint, but I am certain that all of this is God's work. — Morton Kondracke, Saving Milly.
The disease that has now taken the life of Milly Kondracke was first described by Dr. James Parkinson in 1817. Nearly 200 years later, medical science is still unable to offer much hope to the estimated 500,000 Americans suffering with the disease.
Milly and Morton Kondracke became involved in the politics of disease research, seeking to shake loose more funds for diseases of the brain: ALS, Parkinson's and Alzheimer's. In the mid-90's, the National Institutes of Health (NIH) medical research grants totaled "$2,400 per victim on HIV/AIDS, $200 on breast cancer, $100 on prostate cancer, $78 on Alzheimer's disease, $34 on Parkinson's, and only $20 each on diabetes and coronary heart disease, the nations most common fatal conditions."
Brain research funding has improved significantly since then: the NIH estimates of Parkinson's-related research grants for FY 2005 are about $450 per victim. But the total NIH spending on Parkinson's is still less than that spent on asthma or influenza, to name a just a couple of the better-funded diseases.
In his desperation for a cure, Michael J Fox has signed up with the embryonic stem-cell (ES) snake-oil salesmen. That's too bad. ES is being hyped as a cure for everything when in fact is has cured nothing. It may be riskier than many medical approaches: Experimental treatments in animals have caused life-threatening tumors to grow instead of life-saving wonder cells.
Adult stem-cell research may hold some promise for Parkinson's. But the real difficulty is that Parkinson's is likely caused by some environmental contaminant linked to modern society. Even if adult stem cells could rebuild some of the brain's dopamine producing factories, they would be just as susceptible as the original cells to death by contamination. At best, such a treatment would only buy some additional time.
Tragically, Parkinson's drove Milly Kondracke away from God. She held God responsible for her suffering. She became bitter about her dependency. She felt she'd been treated unfairly by a God she had always tried to please.
For Morton Kondracke, serving Milly and saving Milly had just the opposite effect. So great was her need, so high were the stakes if he should fail her, that Parkinson's forced him to face his weaknesses. The desire to become better than he had ever been, for Milly's sake, drove Mort Kondracke to his knees and into a new relationship with God.
Michael J Fox is facing some very stark realities. Despite the smile he often wears in public, I suspect he's more-than-a-little worried about what the future holds. I know I would be.
I suspect Michael Fox has thought a lot about God since he first received his diagnosis. Perhaps he has even wondered, as many have in his place, how a good and loving Father could allow his children to suffer so terribly.
Michael Fox wants to live, so he has rashly thrown his support to ES, not knowing or caring what damage crossing that moral line might do to our perceptions about human life. He's acting foolishly, but he's made a very human and understandable mistake given his circumstances.
Right now, I think he needs our prayers more than our criticism. And as we stand here in history on the verge of making some very difficult ethical decisions about human life, perhaps we should all be asking God for the wisdom to know where to draw the line.
Photo credit: Bravo TV