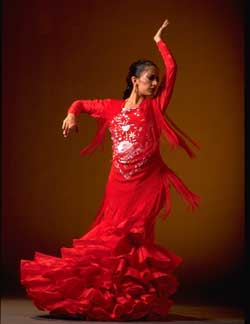 It was about 15, maybe 20 years ago that I attended a reception for the ground-breaking of an upscale community in northwest Tucson. The developers had hired someone named Carlos Montoya to provide the music. I'd never heard of Carlos Montoya before, but I knew he played acoustic guitar, so I figured (being a North Carolina yokel) that I was in for some good old, foot-stompin' bluegrass music.
Carlos Montoya was a world famous flamenco guitarist, and it was at that concert that I fell in love with the ancient and beautiful rhythms of Spanish flamenco. Montoya, old and frail (he was in 80's at this time), was seated on a folding chair and bent over his guitar. His fingers were still young and deftly flew over the strings, producing music with so much passion and raw emotion that I stood there mesmerized watching, listening, feeling.
Tonight I had the privilege of attending a small concert under the stars by Ismael Barajas, a former student of Montoya's who is carrying on and expanding the traditions of flamenco. Barajas was joined on four of the numbers by the graceful flamenco dancer Macarena Giraldes de Padilla, and later by his band for a set of salsa- and jazz-infused flamenco.
Flamenco originated in the Andalucia region of Spain out of the lower classes, primarily the Gypsies. Musically it is all about explosive rhythms and harnessed emotion. Flamenco dancers stamp out rhythms with their shoes while clapping hands or swirling their hands overhead in a stylish counterpoint to the music. Guitarists beat rhythms on the guitar head while strumming and finger-picking to create gorgeous musical melodies. Flamenco rhythms are not ad-libbed, but have specific beats and accents that have been passed down through generations of performers.
The music is full of minor keys, the vocals full of heartache. Flamenco is joyous music, but bittersweet — joy in the midst of a life filled with sorrow and uncertainty.
I spoke to Ismael briefly between sets. He said his father was from Barcelona, a singer who escaped to Mexico during Franco's reign. His mother is Huichol from northern Mexico. Ismael grew up hearing his father sing the traditional music and began playing flamenco guitar when he was thirteen. I commented on his facile way with the guitar — to watch his fingers move over the strings, you'd think he had been born with a guitar in his hands. He laughed. "It's just like breathing," he said.
The most talented musicians give you that impression. They make it look effortless, just like breathing — but we know that's just an illusion.
All good music stirs the heart. Flamenco wears its emotions on its sleeves, and without embarrassment. Maybe that's one of the reasons I find it so appealing. I'm anglo, after all, which means I don't let my emotions loose very often. That's where the Spanish culture has something to teach me.
The heart of God is a heart filled with passion and tenderness, love and grief.
Jerusalem! Jerusalem! Murderer of prophets! Killer of the ones who brought you God's news! How often I've ached to embrace your children, the way a hen gathers her chicks under her wings, and you wouldn't let me. — Matthew 23:37, The Message (Jesus speaking)
Perhaps that is the key to understanding flamenco: it is music that boils over with the passions of the heart, the very passions we have learned from God.
Photo credit: WorldArtsWest.org