His good nature seemed to define Billy Preston, who died Tuesday at 59 of kidney failure in a Scottsdale, Ariz., hospital. Indeed, it was Preston's sunny disposition that landed him his most famous gig as "the fifth Beatle."

In 1969 the Beatles were nearing a fractious end, and the recording sessions for "Let It Be" were unraveling in an endless series of spats when George Harrison brought in a young keyboardist the band had met years earlier when he was in Little Richard's tour band.

Preston's electric piano gave "Get Back" some added kick, but more importantly, perhaps, his cheerful enthusiasm restored some civility to the proceedings. In his 2005 band biography, "The Beatles," Bob Spitz quoted Paul McCartney's recollections of Preston's soothing influence: "It was like having a guest in the house, someone you put your best manners on for … It might have helped us all behave better with one another on the sessions." —Dave Tianen, Milwaukee Journal Sentinel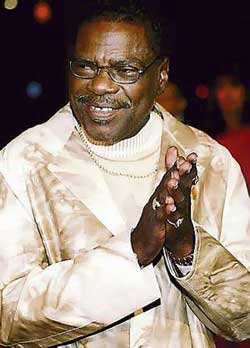 Billy Preston was an electrifying keyboard player, popular as a solo recording artist in the 70's. But in the music world, he was even more famous for providing organ and piano backups for The Rolling Stones, The Beatles, Aretha Franklin, Mahalia Jackson, Little Richard, Ray Charles, Eric Clapton, Bob Dylan… The guy was good. I used to listen to his music and feel myself transported to someplace else.
And his music was inspired by his faith in God. He was raised in the church listening to black gospel. All of his later music was soaked through with the stirring cries of the joyful faith he heard and learned as a child.
His life later went into an all-too-familiar tailspin. As his fame decilined he became addicted to drugs, got into debt, and in a desperate scheme burned down his own home in an attempt to collect on the insurance. He served time in prison in 1998 for fraud, but the experience seems to have brought him back again to God.
Prison "was a great lesson, an awakening. I needed to reflect, to get rid of some of the dead weight around me," he later said. "You take the bitter with the sweet, and I have to say it was my faith that kept me going. I had nothing else to fall back on." —Geoff Boucher, LA Times
Billy Preston. I'm so glad he lived to share his music with us.
Photo credit: The Age