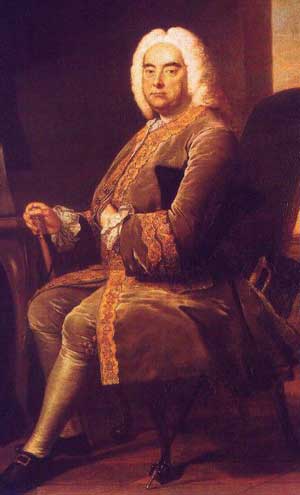 The story goes that after the first performance of Messiah, an enthusiastic member of the audience congratulated composer and director George Frideric Handel for producing such a wonderful piece of "entertainment."
"Entertainment!" Handel replied, "My purpose was not to entertain, but to teach them something."
That was April 13, 1742, in Dublin, Ireland. The previous year, Handel had been approached by the librettist Charles Jennens about a musical oratorio on the life of the Messiah. Jennens' concept was to tell the entire story of the Christ through passages of Scripture put to music. He would begin with the Old Testament prophecies foretelling the ministry of Christ, move to the New Testament's accounts of the birth of Jesus, then forward through his death and resurrection, all seen through the eyes of the writers of Scripture.
In an age when illiteracy was widespread and written copies of the Bible were expensive and rare, Handel became excited about Jennens' idea. Handel pioneered the "oratorio," a musical composition designed to teach the Scriptures by setting them to music. He seems to have immediately understood how important such a composition about the life of Jesus might be, and he set to work on it right away.
George Frideric Handel was born in Germany in 1685, the same year as Johann Sebastian Bach. His father wanted him to study law, but when it became apparent that the young Handel was musically gifted, his father reluctantly agreed to let the boy study music.
Handel became an accomplished harpsichordist and studied in Naples, where he became an acclaimed writer of Italian operas. He later moved to England, where he continued to have success writing opera, as well as compositions for the royal court. Handel's Water Music was composed for King George I.
But nothing Handel ever wrote became as popular as Messiah. Using Jennens' libretto, Handel completed the entire musical score in only 24 days. My dog-eared copy of Messiah contains only the piano and vocal parts and runs 250 pages, including 20 choral numbers and more than 30 solos and instrumentals. It is an astounding accomplishment.
That first performance of Messiah in Dublin (a charity event to raise money for a hospital) was a huge success. The piece was not as well received when it debuted in London, but Handel made it a recurring part of his schedule of performances — it became his tradition to perform Messiah annually as a benefit to raise money for London orphanages.
George Frideric Handel died in 1759 and is buried in Westminster Abbey. Messiah is one of his greatest musical creations, and is arguably the greatest piece of Christian music ever written. The Hallelujah Chorus is instantly recognizable, even by those who do not consider themselves members of the Christian faith. It has become a part of our Christian cultural heritage.
Through the end of the year, I'm going to take a few of the Scripture anthems from Messiah and talk about what they say and mean.
In almost every community during this Christmas season, there will be performances of Messiah. It is available in a number of recorded versions. Set aside some time this Christmas to listen to Handel's masterpiece. Learn the melodies. Hum along and let the words sink into your heart.
Handel didn't write Messiah for music historians or classical music geeks. He wrote it to tell the story of Jesus to ordinary people, through music, the language of the heart.