I can feel Your love watching over me.
From the rise of a silent peace, we sing our praise to Thee.
I can see Your hand reaching over me.
From our knees comes an awesome cry, God of Majesty.

As Your love enfolds around me, so my soul cries to Thee.
On the wings of tomorrow, we will sing unto Thee.
I can hear Your voice softly calling me.
Calm these questions, ease my mind.
Spirit come to me.
Holy Spirit come to me.

Hallelujah! Hallelujah!

I can hear the heavens singing.
I can see the open gates.
God of mercy, love, forgiveness;
An endless dawn of perfect grace.

Questions fade in the sudden silence;
Before the seat of a King we come.
Rising up, we come before the Holy One.

Hallelujah! Hallelujah!

—Hallelujah!, Jeff Rohlwing, from On This Rock, ©2004
I find it difficult to worship God. I don't often feel his presence. I don't experience ecstasies. I don't see visions.
The weight of gravity on my joints and the ticking of that infernal inner clock keeps me from escaping my mortality, my earthliness. I can imagine the exquisite glory of Jesus Christ, but I rarely find myself transported to his throne in worship.
Perhaps my faith is flawed. Or, perhaps it is just that my material body limits what I can experience of the immaterial. Perhaps worship is always less here and now than it is (and will be) when we are ushered into the presence of the eternal God.
There are exceptions. There are moments, when I am alone with God, when I feel my spirit thrilled at the presence of His Spirit. And nearly always, I am released from the bondage of the here and now by music. Music is heaven's language of worship. Music has the power to break my chains and let me fly to God's side.
Jeff Rohlwing is a gifted poet and musician, an artist and a faithful disciple of Jesus. He has just released his fifth CD, On This Rock, and like his previous efforts, it is a musical treasure. There is something pure and unpretentious in Jeff's music. His songs are like prayers, full of honest confession and unashamed devotion to his God.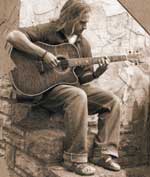 Jeff is an accomplished guitarist with a voice as smooth as honey. His music has a simple vulnerability to it: he sings while accompanying himself on the guitar or piano. He dubs his own harmonies. There is no orchestra, no choir. Just a musical prayer, an honest reflection on faith and a life spent walking with God. When I listen to Jeff's music, I find myself kneeling before God: his hand is on my shoulder, his voice is whispering assurances of his love and mercy.
What sets Jeff Rohlwing's music apart from so many Christian artists is his heart. There is nothing false here. What you hear comes straight from his daily struggle to live out an authentic faith in Jesus Christ, and to live humbly before his God.
You can hear Jeff's music and order copies of his CDs from his website: Jeff Rohlwing Ministries. Booking and contact information is there as well.
While we live here on earth, we are in a sense walled off from the eternal. Yet, God has placed among us men and women with unusual insight—artists, poets, musicians—who have the ability to lift our hearts out of the dust of the earth in worship before the eternal God. Jeff Rohlwing is one of those—when he sings, my heart sings with him.