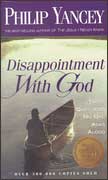 According to Philip Yancey, there are three questions that Christians are afraid to ask, because they take us down a dark pathway into a gloomy forest of doubt, and once there, we wonder if we will ever manage to find our way out again alive.
Is God unfair? Is God silent? Is God hidden? Such questions trouble us the most at those times when our need for God is greatest. We pray for God to heal the young mother with breast cancer, but she dies. Where was God, and why didn't he hear our prayers? The godly suffer, almost disproportionately, at times, and the ungodly prosper. We struggle to please God, to serve and honor him, but at times it seems as though he has forgotten us, even abandoned us. Has he?
Life is full of trouble. What does the Bible teach about evil, pain, suffering, and the plan of God? When trouble hits close to home, how will you respond?