Secretary Rumsfeld, as you know, we are in serious trouble in Iraq, and this war has been consistently and grossly mismanaged. And we are now in a seemingly intractable quagmire. Our troops are dying, and there really is no end in sight. And the American people, I believe, deserve leadership worthy of the sacrifices that our fighting forces have made. And they deserve the real facts. And I regret to say, that I don't believe that you have provided either. You were wrong on September, 2002, when you told the House Armed Services Committee that knowing what we know about Iraq's history, no conclusion is possible, except that they have, and are escalating their WWD programs. And you were wrong when you told this committee that no terrorist state poses a greater or immediate threat to the security of our people than the regime of Saddam Hussein in Iraq. When General Shinseki estimated that we would need several hundred thousand soldiers, you scoffed, and said the idea that it would take several hundred thousand U.S. forces is far from the mark. And when the massive looting occurred after Baghdad fell, because we didn't have enough troops for security, you callously said stuff happens. You wrongly insisted after Saddam fell, that there was no guerilla war, even though our soldiers continue to be killed. In June, 2003, you said the reason I don't use the phrase guerilla war is because there isn't one. You wrongly called the insurgents dead-enders. But they are killing Americans, almost three a day, and Iraqis with alarming frequency and intensity. You wrongly sent our service members into battle without the proper armor. When asked by a soldier about inadequate equipment, you said you go to war with the army you have. They're not the army you might want or wish to have at a later time. You exaggerated our success in training capable Iraqi security forces. In February, 2004, you told this committee we have accelerated the training of Iraqi security forces, now more than two hundred thousand for. That's in February of this year. In fact, we have far fewer, actually able or capable of fighting then, and far fewer that are capable even now. So you basically have mismanaged the war and created an impossible situation for military recruiters, and put our forces and our national security in danger. Our troops deserve better, Mr. Secretary. And I think the American people deserve better. They deserve competency, and they deserve the facts. In baseball, it's three strikes, you're out. What is it for the Secretary of Defense? —Massachusetts Senator Edward M Kennedy's statement to Secretary of Defense Donald Rumsfeld during yesterday's Senate Armed Services committee hearing (23/Jun/05)
Well, that is quite a statement. —Secretary Rumsfeld's response.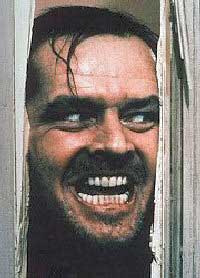 This is why I would never make it in politics. I think I would find it difficult to have the proper attitude of respect and humility and back-slapping good-natured fun in such a situation. It seems more like an opportunity to unleash my Jack Nicholson alter-ego: "Baseball analogies, Senator?! You're giving me baseball analogies? Well, I just happen to have a baseball right here in my expensive, leather briefcase. Whaddaya say you and me play us a game of hardball, shall we, Senator?"
As I listened to the sparring last night on the news, I wondered what I might say if I were in Rumsfeld's shoes, answering Senator Kennedy's charges. For instance, I might have replied:
I see you've been discussing the war effort with your bartender again, haven't you Senator. (I'd deliver that line with a wink and a smile, of course.)
Or, maybe this, which is a bit more deferential:
Senator Kennedy, I thank you for those comments. As I stand at my post in the Pentagon, not a day goes by that I don't think to myself, 'If only, if only the distinguished senator from Massachusetts where here right now to tell me what to do, everything would be peachy-fine.'
Or, I might go for a diversion:
Speaking of baseball, Senator, how about them Red Sox! I think they've got a shot at the pennant, don't you?
Perhaps the backhanded compliment would be better:
Long after I leave public service, Senator, I will cherish these moments sitting at your feet and being tutored by someone with such vast military knowledge and experience.
But maybe the best reply would simply be the direct reply:
Last time I checked, a Senator from Massachusetts doesn't get to tell the President of the United States who will serve on his cabinet. Deal with it, Teddy.