As Jesus and his disciples were on their way, he came to a village where a woman named Martha opened her home to him. She had a sister called Mary, who sat at the Lord's feet listening to what he said.
But Martha was distracted by all the preparations that had to be made. She came to him and asked, "Lord, don't you care that my sister has left me to do the work by myself? Tell her to help me!"
"Martha, Martha," the Lord answered, "you are worried and upset about many things, but few things are needed—or indeed only one. Mary has chosen what is better, and it will not be taken away from her." —Luke 10:38-42 (NIV)
My wife and I were traveling in France, walking through beautiful little towns, taking in the history, enjoying the delicious food. We made day trips to places that sounded interesting and practiced our rudimentary French.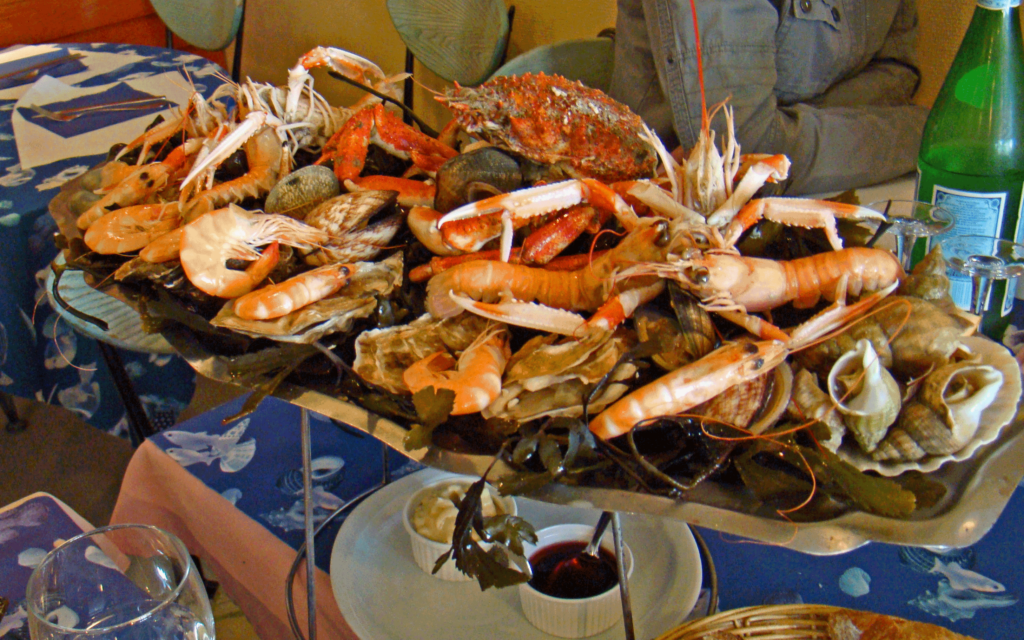 We often ate cheaply, but on one particular occasion we decided to go big. We were in a little seaside town known for fresh shellfish, so we searched out a quaint restaurant, studied the extensive menu, and chose a seafood platter to share between us: plateau de fruits de mer. The waiter proudly delivered a silver platter heaped with mussels and clams and crab and shrimp and a few things we couldn't identify—all of it ice-cold, some of it raw. Not at all what we expected, in particular because it was a very cold day. The couple next to us were eating steamed clams and I was envious. In the end, we both enjoyed our meal, but we agreed that had we understood what we were ordering, we would have chosen something else—probably something cooked.
Some choices are like that. You make a commitment and there's no going back, whether it turns out well or not. We've all had the experience of eating in a new restaurant, ordering something that sounded interesting but ended up as a disappointment.
Even in this day of GPS mapping software, you never really know what you're in for when you open Google maps and choose to drive one way to Cincinnati rather than another. There's always a point where you're committed, where you've driven too far to change your mind, and if traffic grinds to a halt for unanticipated construction, you just have to live with it.
Martha invites Jesus to dinner. Her sister Mary sits down at Jesus' feet to hear what he has to say, leaving Martha in the kitchen with the lamb stew. So Martha complains, not to Mary, but to Jesus. "Tell her to help me!" she pleads.
And Jesus, of course, does the unexpected. He tells Martha to chill and commends Mary for making the better choice. Dinner wasn't a high priority for Jesus, but the Kingdom of God was, and he was only too happy to tell Mary about it, whether they ate fresh lamb stew or leftovers from breakfast.
We make hundreds of choices every day, many of them trivial and instantly forgettable. But there are some very consequential choices in life, aren't there? Should I marry this woman I seem to be falling in love with? Should I move to a new city to take a promising job? Do I stick it out with this friend who seems increasingly toxic? Do I report the unethical behavior I've witnessed at work?
And what about eternal questions? It's easy to duck those, to let ourselves become consumed by the pursuit of good living, money and success, love, influence, exotic experiences, notoriety and recognition and achievement, and thus to ignore the most important thing—our mortality and Jesus' promise of eternity in exchange for a commitment of faith.
"Few things are needed—or indeed, only one. Mary has chosen what is better…"
What had Mary chosen? She'd chosen Jesus over her sister, Jesus over the rituals and obligations of cultural hospitality. She'd chosen to risk being labeled self-centered or inconsiderate so that she could hear what Jesus had to say to her.
She'd chosen to set aside, momentarily, all of the conventions and obligations of her life to sit at Jesus' feet and consider what the Son of God might want to say to her.
And what about you? What are you choosing to do today, to think about today, to invest yourself in today, that is distracting you from the only really important thing—Jesus and his claim that he holds the keys to life, both today and for eternity.
We get to choose how to spend our minutes, our hours, our days, our life. We even get to choose how we'll spend eternity. Choose wisely.