Two thousand and twenty-odd years ago, a heavily-pregnant teenager was beginning to feel labor pains in a strange town, miles from family and friends. Generations of us have been told of her story as small children and have sung of it year after year, always moved by her innocence and vulnerability, by her faith that God was working out some plan in her and around her – and through her quiet faithfulness.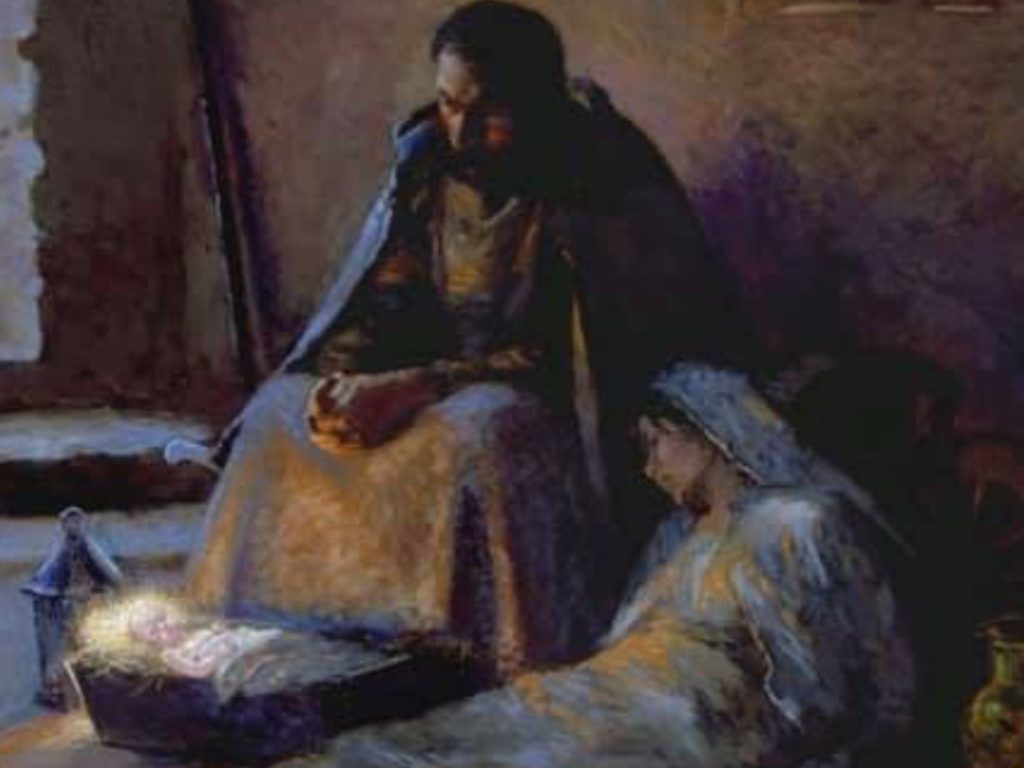 She'd never been pregnant before. She'd never felt a child moving within her body. She had undoubtedly witnessed the birth of many other children and knew something of what was coming, but she would have been focused on the physical things: thirst, hunger, pain, finding help from a midwife, caring for a newborn. She could never in her wildest dreams have imagined ranks of singing angels and visitors seeking a brief glimpse at this child who was so much more than just another newborn.
We, too, are wrapped up in the physical concerns of the moment. Two years and counting of masks and inoculations and hospitalizations and death from yet another mutation of COVID. Travel restrictions preventing us from seeing family and friends, some whom we've lost permanently since Christmas last year. And we're absorbed in more mundane concerns. Are all the gifts wrapped? Is the feast ready? Will Santa find a way to supply the good little children despite the loaded ships floating at anchor off the port of Los Angeles?
These are the things that absorb us on Christmas Eve, 2021. But the child that was born this night to the virgin teenager calls to us, pleads with us, to consider his story.
The shepherds to whom the angels appeared that night hurried to find the Messiah, God's promised Savior, the One who would extend the kingdom of King David for all eternity. They found him, but unexpectedly found as well the Lamb who would take away our sin, and the sins of the whole world.
It happened so long ago that we are tempted to brush aside the story as just one of so many childhood myths that we have discarded as we've grown to see the world through the eyes of adulthood. Politics is too frightened of the Child-King to make room for him. Science is too skeptical of the virgin birth and resurrection to give him a second thought. History has seen too many charismatic sociopaths to put any credence in the One who called himself the Son of God.
But every year, something about this child calls out to us. Something about this story seems different – wonderfully different – from every other mysterious claim on our hearts.
Find some time on Christmas to remember the child whose name is remembered in this holiday: Christ, the promised Savior. Set aside some time to consider the call to your heart from the God who seeks you out and who set this night in motion thousands of years ago, because he loves you.
For a child is born to us, a son is given to us. The government will rest on his shoulders. And he will be called: Wonderful Counselor, Mighty God, Everlasting Father, Prince of Peace. His government and its peace will never end. He will rule with fairness and justice from the throne of his ancestor David for all eternity. The passionate commitment of the LORD of Heaven's Armies will make this happen! – Isaiah 9:6-7 (NLT)