"Dear brothers and sisters, when troubles of any kind come your way, consider it an opportunity for great joy. For you know that when your faith is tested, your endurance has a chance to grow. So let it grow, for when your endurance is fully developed, you will be perfect and complete, needing nothing." – James 1:2-4 (NLT)
I have a friend who loves bicycling, especially, but not exclusively, mountain biking. She rides dozens of miles every day. She enters grueling long-distance endurance events. She pushes herself to the point of exhaustion and then pushes more, because she loves the challenge, she loves overcoming obstacles, and she loves riding her bike.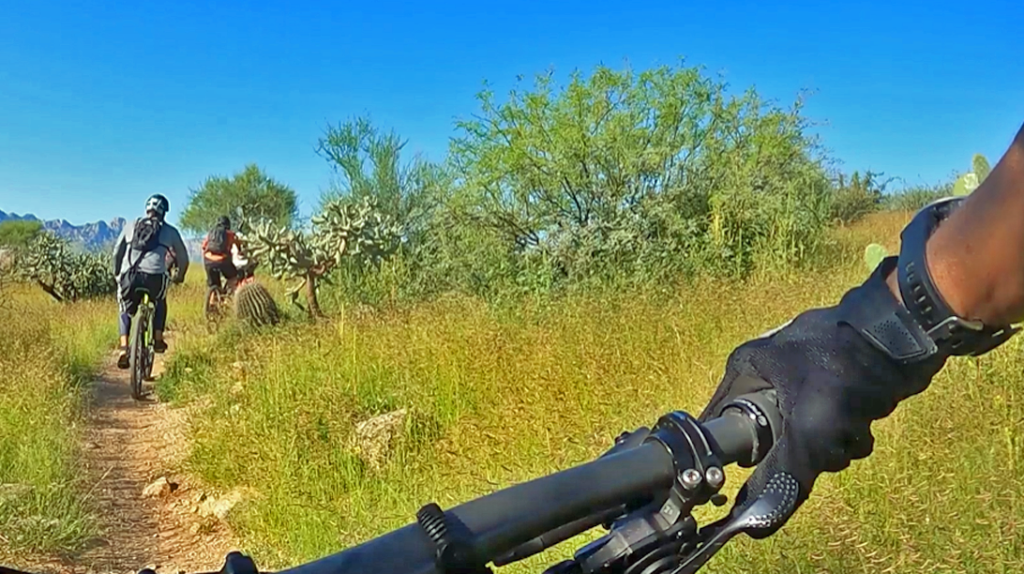 I admire her skill and toughness and her delight in overcoming challenges. I admire her competitiveness. She's a role model to a great many others, especially those who haven't been in the sport for as long as she has. She's an encourager. She's a teacher. She's one of those people who have a gift for making you want to accomplish what you were sure you would never be able to accomplish.
Through years of riding, training, and going for new challenges, my friend has developed and perfected the quality of endurance.
Endurance is the quality of bearing up under a strain and not letting it overpower you. It's an essential quality for athletes of all stripes. It's both a physical and a mental quality. Our physical strength will give out at some point when there is no more energy in the tank, but if our mental determination to keep going runs out, it won't matter how much more our bodies are capable of – we're finished.
David Guzik's commentary on this passage has this to say about the word that we translate as endurance:
"The ancient Greek word hupomone comes from hupo (under) and meno (to stay, abide, remain). At its root, it means to remain under. It has the picture of someone under a heavy load and choosing to stay there instead of trying to escape." –Enduring Word Commentary, Pastor David Guzik.
When troubles come, do we flee, or do we stand up under them and endure?
James begins his letter by writing about troubles and our need to be people who endure. Jesus set the stage for the Christian perspective on trouble when he remarked to his disciples, just before he was crucified:
"I have told you these things, so that in me you may have peace. In this world you will have trouble. But take heart! I have overcome the world." – John 16:33 (NIV)
Both James and Jesus agree: Troubles will come to us; they cannot be avoided.
So what do we do? We endure. We endure in faith. Faith in what? Faith in whom? Faith in God's presence, God's authority, God's goodness, God's love, God's encouragement. Faith that God hears us when we cry out to him in hard times.
Faith that God raised Christ from the dead, though he, too, had to endure a great deal of trouble first.
If you endure a long series of tough mountain biking challenges, your muscles will grow, your skills at staying upright in difficult terrain will grow, your confidence will grow, and your stamina will grow.
If we endure trouble in this world, James says we will be perfected and made complete. What does that mean?
"But now you are free from the power of sin and have become slaves of God. Now you do those things that lead to holiness and result in eternal life." – Romans 6:22 (NLT)
We have been saved by the grace of God through the blood of Jesus Christ, shed for our sins. Saved, yes, but that's not the end of it. To be made fit for God's work here and for eternity, we must learn to live differently. We must give up sin: our pride, our independence, our deception, our idolatry, our lusts and vanity and self-serving habits and desires that combine to push us away from God, from Christ.
We go through a life of training to become more like Christ, training that is directed by the Word of God infusing our hearts with the wisdom of God's Holy Spirit. That training is referred to as sanctification and involves learning a new way to live, learning new skills, new disciplines, internalizing new habits and priorities. It also means learning to go the distance without giving up, remaining faithful to Christ even when we're under the weight of heavy circumstances.
We learn these new habits of life by immersing ourselves in the life of the church and being taught by the example of other Christians. But we also learn these new habits by going through troubles and discovering new ways to think about pain, disappointment, suffering and difficulties of all sorts in the light of the example of Jesus, who gave up his place at God's side to live and die as a human being.
To become a skilled mountain biker requires a lot of miles, a lot of falling and getting up again, bruises, scrapes, sweat and, most of all, repetition. The endurance that sanctifies and perfects us is no different.
There's a difference, of course, between mountain biking and, say, going through chemotherapy or losing a loved one or not having a warm place to sleep at night or the thousands of other ways that life can mug us in the dark. The mountain biker chooses to accept the pain of the ride for the joy of riding. There's no joy in burying a child or enduring the slow internal destruction of your body through cancer.
"When troubles of any kind come your way, consider it an opportunity for great joy," James says. He doesn't say we must pretend to be joyful in the midst of great pain and hardship. Let's be clear about that. Christ cried out in agony on the cross and he didn't make jokes with the Roman guards as they drove nails through his hands and feet.
Joy is something else. It's not glee; it's not delight: It's the confident faith that along this difficult road we will encounter Jesus, our brother, who also suffered just as we do. This joy is the fruit of hope. We're not in this fight alone. Jesus stands beside us. The church prays for us. And so, we commit ourselves to endure.
James challenges us to push back against the troubles that assault us and in the power of Christ, to stand beneath the weight of them and endure.