Let us not become weary in doing good, for at the proper time we will reap a harvest if we do not give up. Therefore, as we have opportunity, let us do good to all people, especially to those who belong to the family of believers.
— Galatians 6:9-10, NIV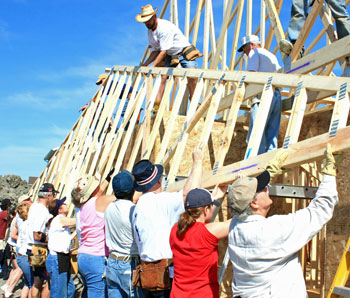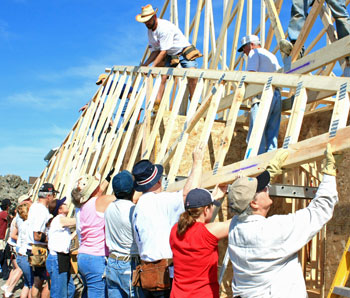 We Boy Scouts are required to do a good deed every day. (I haven't worn the Boy Scout uniform since I was 16, but once a Scout, always a Scout.) The Boy Scout slogan is "Do a good turn daily;" and as the Scout Handbook explains, "A Good Turn is more than simple good manners. It is a special act of kindness." Helping an old lady across the street sort of stuff.
Doing good can weigh on you. I'll get to the end of the day and realize with a groan that I've spent my entire day satisfying my own selfish cravings, not once giving a momentary thought to helping others. Panic sets in. I begin looking around for some act of selfless kindness that I can perform. Should I mop the floors? Take out the trash? Does playing ball with the dog count? Doing good, frankly, places a heavy burden on the do-gooder.
If only. If only the desire to do good really did weigh on my conscience more than it does. Paul has an interesting perspective on the spiritual significance of "doing good."
In Ephesians 2:8-10, he writes that we cannot gain favor with God by doing good. This, of course, is Christian theology 101. We are saved by God's grace, Paul says, saved by God's special willingness to cover us, in Christ, with a goodness that is not within us. But he goes on to say that this God who created us has specifically planned that each of us should do "good works."
So what Paul seems to say is that one of our core human purposes is to be people who labor in God's creation and bring about God's goodness in the lives of others.
Returning to Galatians 6:9, Paul addresses one of the central problems in this program God has created for accomplishing good: we get tired and quit. Why is that, do you think?
If the sort of good we're talking about here is some selfless act that costs us something – time, money, inconvenience – but which benefits someone else, one obvious, and embarrassing, reason for becoming weary is that we adopt the attitude that there's nothing in it for us.
That became Ray Kinsella's ultimate complaint in the baseball fantasy "Field of Dreams." After plowing under his corn field, risking bankruptcy, and becoming a laughingstock to his family and neighbors — all in obedience to a voice that tells him to build a baseball field in the middle of Iowa — Kinsella finally reaches the end of his rope:
Ray Kinsella: I listened to the voices, I did what they told me, and not once did I ask 'What's in it for me?'

Shoeless Joe Jackson: What are you saying, Ray?

Ray Kinsella: I'm saying, What's in it for me?
Sometimes, we just want a little credit for what we've done, a little thank you, a Hallmark card, maybe, or some other sign of appreciation, but the good that we do goes completely unnoticed, or perhaps even unwelcomed.
Or we may come to feel small and ineffective, as if all the good that we try to accomplish is merely a drop in a vast lake of indifference, suffering, and evil. We call it quits because we doubt that we're making any sort of ultimate difference in the world.
We can even take that one step farther into cynicism. This world is just too bad, too self-centered, too irredeemable; all the good in the universe won't change a thing, so why try? Better to just hunker down in our cozy bunker and watch out for number one.
The persistence of sin and our own limitations, including our mortal inability to see history and human existence from God's perspective, all conspire together to make us weary in doing good, to tempt us to give up doing good. So we turn our gaze inwards and focus instead on our own needs, our own yearnings, our own lives.
But God has created us to be outwardly focused. Only when we look for opportunities to serve others in love are we able to live out one of the key purposes we were created for.
God created us to do good, to be his instruments of good to one another. If we allow ourselves to give in to cynicism or despair or weariness, or if we twist doing good into something whose purpose is to make us feel better about ourselves, we are the poorer.
But when we serve others for no other reason than to bless them, we learn what it means to live like Jesus.
Whoever wants to be a leader among you must be your servant, and whoever wants to be first among you must become your slave.

For even the Son of Man came not to be served but to serve others and to give His life as a ransom for many.
— Matthew 20:26-28, NLT
Photo credit: Habitat for Humanity