Now to him who is able to do immeasurably more than all we ask or imagine, according to his power that is at work within us, to him be glory in the church and in Christ Jesus throughout all generations, for ever and ever! Amen. — Ephesians 3:20-21, NIV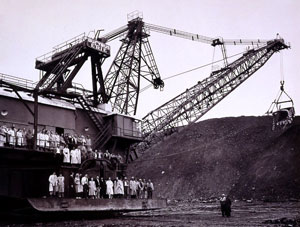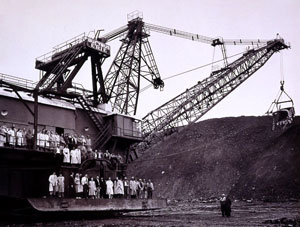 Out here in the sticks where the city sewer pipes don't go, our toilets and washing machines all flow into a septic tank. Happy colonies of bacteria digest the waste and leave behind water, which flows into an underground leach field where it percolates deep into the soil, to be scrubbed and purified.
Such a constant source of water in the middle of a desert is like a tree magnet. After decades of use, a leach field can become strangled with roots, causing the whole system to back up.
Which is why, for the past few weeks, I've been digging holes in my backyard. I was looking for a concrete box where I could get access to the leach fields. It had been almost 30 years since I last saw that box and I had only a vague notion of where it was buried.
My memory is clearer about the conversation I had with the plumber who installed the system. "Someday you're going to need to get into this box to clean out these leach lines, so be sure to take some careful measurements of where it is." And I did, but I think I jotted my notes down on the back of a Larry's Lumber Yard receipt, and they're long gone.
In some parts of the world, a man wishing to dig a hole could sink his shovel deep into rich, dark loam with no more effort than it takes to cut a hefty portion out of a birthday cake.
Out here in the sticks, we don't have loam; we have small rocks mixed with still larger rocks. I grabbed my 35-pound iron digging bar and started prying rocks out of the ground. After two, sweat-dripping days in the hot sun, I'd excavated a narrow trench 3 feet deep.
My eureka moment came when I dropped the point of the digging bar into one end of the trench and water bubbled up. The Beverly Hillbillies' theme song started playing in my mind ("…and up from the ground come a bubblin' crude… oil, that is, black gold, Texas tea")
A few frantic hours later I had the trench drained and the pipe patched. Now I knew roughly where the box must be hiding, but digging by hand wasn't going to work. I needed More power! to borrow Tim Allen's mantra. My neighbor owns a backhoe for jobs like this, so I borrowed it and started digging.
An accomplished backhoe operator can move his bucket and boom with a fluid precision as beautiful as any ballet.
For me, it's more like 4th grade dance class where I kept putting my right foot forward instead of my left. Boom down, jib out, bucket out, swing right… oh, wrong way, push for right, pull for left. Too much thinking; not enough digging.
But I quickly got the hang of it and in an hour or so had opened a wide, deep trench. Taking one more bite with the bucket, I saw a glimmer of white concrete from the side of the distribution box. The rest was easy, thanks to the power of a digging machine.
Intractable problems often beg for more power. Some yield to machinery, some to invention, some to political solutions. In the arena of human behavior and relationships, we often seem to lack the power to effect significant, lasting, positive change.
What power can I apply to make me a better man? What power can make enemies set aside their hatred? What power can heal the scars left by abuse or neglect? What power can free us from the chains of addiction or the self-destructive narratives that trap us in cycles of failure? What power can make society just and good? What power can we harness to restore hope and significance to those who have been pushed to society's margins?
We once thought that an enlightened society ruled by a just and benevolent government would have the power to transform humanity, but as the recent riots in England demonstrate, our great achievements in democracy and the rule of law have failed to put a dent in envy, greed, and malice.
We once believed that psychiatry would unlock secret powers of the mind, but in the main it has failed to live up to its overly optimistic promises. Behind closed doors and down darkened streets, men and women debase and abuse themselves, exploit and dehumanize one another, or succumb to the fatalistic, hopeless certainty that nothing will ever change.
What power is there that can purify the human heart of its evil and self-destructive inclinations?
In Ephesians 3:20, Paul claims that the power of God can be "at work within us" through faith in Jesus Christ. Jesus spoke of that same power just before ascending to Heaven, when he promised his disciples:
But you will receive power when the Holy Spirit comes upon you. And you will be My witnesses, telling people about Me everywhere — in Jerusalem, throughout Judea, in Samaria, and to the ends of the earth. — Acts 1:8, NLT
Paul's declaration that [God] is able to do immeasurably more than all we ask or imagine suggests that the powerlessness I sometimes feel in my own life may be evidence that I am going it alone, relying on my own strength. If I reject God's participation, or if I give up and succumb to despair when problems seem overwhelming, I become powerless by my own choice.
But if God's power is at work within me, as Paul claims, I should be experiencing something transformational and empowering, something above and beyond what can be accomplished by my own wits and skills. And indeed, I do, but honestly, I don't experience that power as consistently as I would like. Certainly not as consistently as I need.
If I'm honest, I'm forced to admit that I too often take the reins from God, careening off in my own direction instead of following his lead. I too often hold back, preferring the well-worn ruts of the track I have always followed to the unknown and unfamiliar trail God would have me try.
And, frankly, I too often give in to hopelessness rather than daring to have faith that the God of Hope can transform society, can change the people around me, can even reach into my heart and change me, which is surely the toughest challenge of all.
I have experienced the transforming power of the Holy Spirit in my own life, and I continue to experience it daily as I pray for faith and humbly submit myself to God's good purposes.
"Now to him who is able to do," says Paul. God is able to do. He doesn't attempt, he doesn't try, he doesn't promise to give it a whirl, he doesn't pass the buck to his supervisor for a solution.
The Lord God who created the heavens and the earth lives within us. Through our faith in Jesus Christ, God is able. Through our faith in Jesus Christ, God can do immeasurably more than all we ask or imagine.
Change begins with hope, not hope in our own failed schemes to do better and be better, but hope in the power of God within us to lift us, strengthen us, empower us and change us.
Photo credit: Historical Society of Pennsylvania