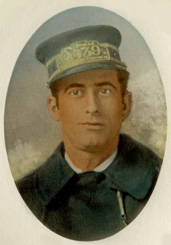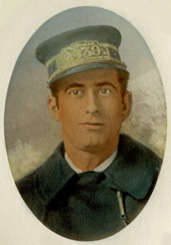 That's my grandfather, Joseph Yves Louis Lehardy. He was a riddle wrapped in a mystery inside an enigma, to borrow from Churchill. Both he and my grandmother died before I was born, and 4 of their 7 children passed on before my 18th birthday. His family grew up broken apart by hardship and tragedy; by the time I began asking questions about this mysterious man in the conductor's cap, no one living had any answers.
He was French, of that we were certain, but little else was clear. Joseph wasn't one to talk about his parents, his siblings, his childhood or what had led him to America.
There was a rumor that he had run up debts in Monte Carlo and fled France ahead of angry men. There was a story that he had been persecuted for his faith and had fled to Canada, then to Baltimore where he married my grandmother in 1912.
Looking for the truth, I began researching my family history. There was a wealth of data on my mother's family, but after a few years of digging I could find nothing at all about the man in the conductor's cap, besides his death certificate and a few, speculative family letters.
I began to doubt the few things I thought I knew. Perhaps he wasn't French at all? Perhaps his name was an alias he had concocted to hide his real identity?
We live in a world dominated by the tangible and concrete, a world that revolves around facts and the scientific method, a world in which mysteries are routinely battered by high energy particle accelerators until they yield to our need to know.
So I kept pressing for some clue, some fact to hang my family history on. And then one day, a seam the width of my fingernail opened in this Chinese puzzle box: I found my grandfather's sworn testimony about himself, given in exchange for his US citizenship.
There were many amazing things in that document, but topping the list was this: he had come to America from the city of Rennes, France, in late 1907.
My search had suddenly leaped across the ocean to Brittany, in the northwest corner of France.
The next breakthrough was my brother's. A career in the Army had taught him how to solve difficult problems with ingenuity and persistence. Speaking not a word of French, he managed to get copies of a number of original records on our grandfather.
The French are bureaucratic geniuses, having the world's most complete set of birth, marriage and death records going clear back to the invention of cheese. They are also smart enough to know that if you ship a bunch of papers to a curious American, he'll be less likely to sully your beautiful little country with an actual visit.
Working over the Internet, my brother and I have been greedily draining the French document databases and filling in the history of my grandfather Lehardy's family. Today, most of the mysteries have been solved.
I thought of all this while reading an email I received a few days ago. The writer had read one of my essays on the historical Jesus, and voiced his skepticism this way:
There is not ONE, historical reference anywhere that confirms a divine man named Jesus… Jesus was not a popular guy amongst his peers while alive but became famous only after he died… For a guy that was supposed to be the greatest man that ever lived we have no idea when he was born, no idea what he looked like… His story parallels many previous myth gods that also claimed to be born December 25, of a virgin, died and reborn again, and spirited away.

I don't have to see something to believe it's true or not. It just has to make common sense. There is no common sense that proves that there ever was a divine man named Jesus (Yeshua).
I suspect the writer is parroting other skeptics without having done much personal research, but a great many people would agree with him, and I'd be dishonest if I didn't admit that there is nothing approaching slam-dunk proof that Jesus was the Son of God.
I had a tough enough time finding a few bare facts about my 200-year-old ancestors; solid evidence about an obscure Jew who lived over two millennia ago is very hard to come by.
But the Scriptures themselves provide even better evidence about the historical Jesus than I have thus far discovered about my own grandfather. For while there is no birth certificate for Jesus, what we have is the testimony of a group of people who claim to have known him personally, or else interviewed those who did.
Their stories are remarkably consistent with each other. And the human factors in those accounts are convincingly real. The Gospels read more like news reports than fiction. The people in these accounts are as sophisticated and unpredictable as real people should be. The conversations and events contain the stuff of real life — well, except for the miracles. But we're talking here about the Son of God, so a different standard applies.
What seals it for me is the fact that Jesus' disciples abandoned him after his execution. Their accounts are unflattering portrayals of a mass betrayal of their friend and teacher. They were terrified of reprisals and stunned, grief-stricken and demoralized, to discover that this miracle-worker was an ordinary human being, capable of bleeding and dying like everyone else.
This was a completely human response. Completely understandable. And then came the resurrection. Jesus appeared to them all, they claimed. The tomb was empty, they claimed.
Suddenly, they were a different group of men.
The resurrection changed them from a cowering, hopeless band of misfits to a unified, bold and confident group of revolutionaries. They became the founders of a new religion, they challenged the religious status quo at great personal risk, and they stayed true to their claims about Jesus and his resurrection until they themselves died, sometimes painfully at the hands of Roman executioners.
No, it isn't proof, but it's a very hard thing to explain, this radical change of heart. It's not proof, but it should make you curious enough to want to read those accounts for yourself. It should make you want to ask the question, "What did these guys see that so completely changed the course of their lives?"
It's not proof, but it's compelling evidence of something very interesting.