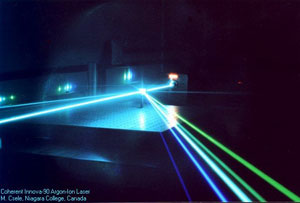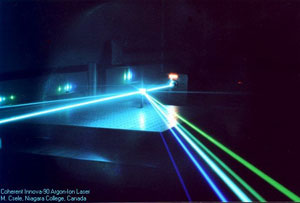 Since I'm always interested in trying new things, I had my retina spot-welded with a laser beam on Tuesday by a doctor who spoke no English. As cross-cultural experiences go, I think I prefer eating roasted grasshoppers.
Not that I was unhappy with the result. Far from it. If you ever rip your retina while you're in Oaxaca, Mexico, I highly recommend Dr. Hernández of Clinica Las Rosas. You won't find better or more modern care anywhere in the world, I'd venture.
Dr. Hernández and his staff were terrific, and they reminded me that Mexico is still a place where medicine is about patient care, not profits.
But let me assure you, there is a good reason why our mothers warned us never to shine laser beams into our eyes. Those babies are bright! Like brighter-than-the-sun-at-high-noon-in-the-Sahara bright!
Which is rather amazing, when you think about it. A laser is nothing more than a beam of light, just like the warm, golden rays that filter through a bedroom window on a summer day.
Most light is disorganized and somewhat lazy by nature, with each photon marching to the beat of a different drummer.
By contrast, a laser is a light beam directed by a very strict, in-your-face drill sergeant. He harangues a bunch of shuffling, slacker photos into marching in perfect military formation, each photon-foot stepping up and down together as one. And in that coordination is awesome power — the power to cauterize and repair my damaged retina.
There is a power in unity that is unthinkable in chaos. But unity is never a de facto force for good. The evil Auric Goldfinger tried to kill James Bond with his giant, industrial laser, after all.
Unity is only good when guided by a moral purpose. A mob can be unified in its unjust determination to harm an innocent man. A nation can be united in its aggression against the freedom and autonomy of other nations.
Unity can support a tyrannical majoritarianism, where the will of a weak minority is ignored or suppressed, as when Jim Crow laws suppressed the rights of blacks in the old South.
But unity can be a force for great good. When a group of ferryboat captains sped to the rescue of the passengers on that downed US Airways jet, they were united in their willingness to set aside considerations of schedule and profit and personal risk so that they might come to the aid of 155 people in dire need of help. Their selfless unity made them more effective than any of them could have been alone.
During his last night with his disciples, Jesus prayed for unity. When one considers all the things that might have been on his mind at such a moment, unity seems an odd choice. Jesus even managed to look ahead into the future, pleading for unity among all who would come to believe in his message of peace and reconciliation with God.
I am praying not only for these disciples but also for all who will ever believe in Me through their message. I pray that they will all be one, just as You and I are one — as You are in Me, Father, and I am in You. And may they be in Us so that the world will believe You sent Me. … I am in them and You are in Me. May they experience such perfect unity that the world will know that You sent Me and that You love them as much as You love Me. — John 17:20-21,23 NLT
There are several things going on in this prayer.
First, Jesus calls us to a unity (as believers) like the unity he claims to have with God, the Father. Our relationships with each other are to be modeled on theirs.
Next, Jesus describes that unity in different terms than we might expect. He doesn't seem to be thinking primarily of a state of agreement or of marching to the same beat.
This unity occurs when we allow ourselves to be subsumed by God the Father, in the same way that God the Father and Christ the Son are subsumed in each other.
In other words, Jesus prays for us to set aside those things that put us in opposition to God and his purposes. The unity Jesus describes is one in which we willingly accept God's authority and sovereignty over our daily lives.
Finally, taking a page out of management theory, Jesus describes an intended outcome. As we live out this "perfect unity" where we are subsumed in a relationship to God, the world will notice that something unusual has happened.
As the world witnesses our unity, God will gain the credit. Why? Because this promised unity will be a rarity — unity with a moral center. Our unity with God will be lived out in the world as unity with a heart of justice, unity with a heart of love, unity with a heart of generosity, unity with a heart of compassion, unity with a heart of peace.
Over the centuries, many have tried to create such unity through the socio-political transformation of society, hoping to find good leaders to bring about political and economic reform through good laws and humane social programs.
It hasn't happened. We keep hoping that the next great leader will be the change we need. But the world seems forever locked in chaos and disharmony, and is as far away from a just and compassionate unity as ever.
Ever since the dawn of creation, we have warred and struggled against God and each other. Christ has drawn us back to God, back into a long-overdue embrace with our Creator.
Jesus' hope, expressed at the end of his prayer for unity, was that we would come to realize that God loves us as much as he loved his own Son.
Could the knowledge of God's love for us also affect our relationships with each other? How might we be changed, how might history be transformed, if we were to see ourselves as united, joined together, not by political party or economic class or religious dogma or racial heritage, but in a giant group hug, wrapped up in the embrace of a loving God?
The brightest laser would pale in comparison.
Photo credit: M.Csele, Niagara College, Canada