Human beings, who are almost unique in having the ability to learn from the experience of others, are also remarkable for their apparent disinclination to do so. — Douglas Adams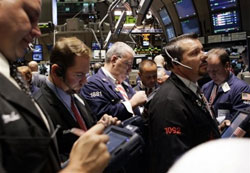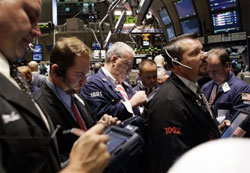 In the late 90's, any company with dot-com in its name became an overnight sensation with investors, whether it was turning a profit or not. Most didn't. You remember what happened: after sensational run-ups in the prices of dot-com stocks, reality broke up the party. The Internet bubble burst and investors lost millions of dollars.
Now the headlines are again full of financial carnage, this time from the bursting real estate bubble. Lehman Brothers, Bear Stearns, AIG, Merrill Lynch and other behemoths of finance are bleeding out because they made a boat load of risky loans that went sour on them. AIG has just received an 80-billion dollar federal cash infusion, and that may not be enough.
Both of these debacles were fueled by the belief that values could only go up. When they actually fell, all the talking heads claimed to be "Shocked! Shocked!"
We're hearing a lot of political hot air these days about the importance of experience in the White House. Ivy Leaguers snicker at the executive experience of the governor of our largest state, who didn't attend any of the "right" schools. Meanwhile, the party of Lincoln (a self-educated lawyer) belittles the experience of a Harvard-trained Illinois lawyer-turned-congressman.
It's true that experience is important. But isn't it ironic that these financial juggernauts were sailed into the rocks by some of our nation's most highly experienced (and well-paid) Ivy League lawyers and financiers?
Experience knows to hit the brakes when it sees a yellow light. Experience stands a respectful distance back from the edge of a crumbling cliff. Experience exercises caution and prudence.
These staid, respectable companies, with centuries of collective management experience in their executive suites, apparently threw caution and prudence out the window. They turned Wall Street into the Las Vegas strip.
Here's the problem: experience is never enough, by itself, to guard against failure. Why not?
In a word, sin. This financial meltdown was ultimately caused by arrogance, hubris and that old faithful friend, greed. Experience was there in spades, but men and women who should have known better ignored it.
Arrogance. Success can lead us to believe we are smarter than everyone else, and smarter than we really are. Arrogance tempts us to stop listening and learning, to throw caution to the wind, to hit the gas instead of the brake. Humility is a quality rarely seen in kings.
Hubris. Power creates the illusion of control. It can induce a god-like belief that the ordinary rules don't apply to me. Hubris blinds us to reality. We blame failures on others and take credit for every success, whether deserved or not. Rare is the admission of weakness and failure among executives.
Greed. Investors demand higher returns. CEOs demand more lucrative compensation packages. We are children of a materialistic culture whose god is money and all its benefits. Materialism, by definition, rejects the existence of God, so it's little wonder that lavish living and growing bank accounts have become the secular god-substitute of this age.
Christianity teaches that these are things we all find tempting. We ignore the cautionary lessons of experience and give in to the sin that lives inside of our hearts. Not all of us manage to bankrupt giant companies, but we all have our moments of greed, pride, envy, lust, and arrogance.
But in Christ there is the promise of a way to resist such temptations: the transformation of our sinful desires into something good and godly.
Don't copy the behavior and customs of this world, but let God transform you into a new person by changing the way you think. Then you will learn to know God's will for you, which is good and pleasing and perfect. Because of the privilege and authority God has given me, I give each of you this warning: Don't think you are better than you really are. Be honest in your evaluation of yourselves, measuring yourselves by the faith God has given us. — Romans 12:2-3, NLT
This means that anyone who belongs to Christ has become a new person. The old life is gone; a new life has begun! And all of this is a gift from God, who brought us back to Himself through Christ. — 2 Corinthians 5:17-18a, NLT
Experience is by no means irrelevant to leadership, but neither is it a guarantee of success, or even an antidote against colossal failure.
More important even than experience is that ill-defined quality we call character.
Character points to attitudes of the heart. In the Christian view, our hearts are either governed by God or by our own whims. We can either respect the awful power of our sinful propensities and depend on God's help to swim against the currents of greed, hubris and arrogance, or we can drift downstream and go with the flow.
Somewhere in the Wall Street meltdown may be a story of a management team that swam against the get-rich-quick-with-risky-loans tide. At least, I hope there is. If that story gets told well, it will undoubtedly reveal the very different sort of mindset that drives some men and women to embrace character-based leadership. It will be a lesson many of Wall Street's Ivy League titans failed to grasp.
Experience is never enough to save us from ourselves. In the immortal words of Walt Kelly, "We have met the enemy, and he is us."
Photo credit: David Karp, Associated Press