Mars ain't the kind of place to raise your kids
In fact, it's cold as hell
And there's no one there to raise them if you did
—Rocket Man, Elton John
Hence the enigma: an origin of life on Earth appears highly improbable; an origin elsewhere is highly conjectural. —Martin A Line, "The enigma of the origin of life and its timing," Microbiology, 148, pp. 21-27 (2002)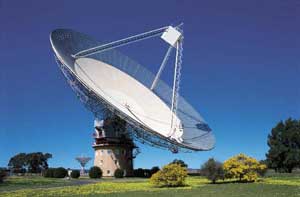 The Search for Extra-Terrestrial Intelligence (SETI) was born in early 1960, deep in the woods of West Virginia at the Green Bank radio astronomy observatory. Its father was Frank Drake, a little-known researcher who suggested that it ought to be possible to find other civilizations by listening for the electromagnetic chatter produced by technology.
It was at Green Bank that Frank Drake unveiled what became known as the Drake Equation to a small conference of enthusiastic astronomers. (It Must be Beautiful: Great Equations of Modern Science, Granta, 2003.)
The Drake Equation is designed to estimate the number of civilizations that might be out there making electronic noise. After much debate, the Green Bank conference arrived at a number: between 1,000 and 100,000,000. That estimate lit a fire to SETI.
Bigger and better radio telescopes were built. Search strategies were refined. Carl Sagan penned Contact!, and research money flowed like a river.
What happened next was quite unexpected. Everywhere they pointed their antennas, SETI researchers heard the same thing: silence.
It's said that the great physicist Enrico Fermi was eating lunch one day at Los Alamos when he exclaimed: "Where is everybody?!" The question captured what became known as the 'Fermi Paradox:' If the universe is so full of life, why is it so quiet?
The embarrassing lack of radio emissions was bad news for SETI, which eventually lost its funding. As more and more pessimistic values were cranked into the once-hopeful Drake Equation, some began to wonder if Earth was unique.
How could that be?
According to evolutionary theory, life as we know it began with the spontaneous organization of elemental chemicals into amino acids, a process called abiogenesis. Abiogenesis should be going on everywhere in the universe, and because our galaxy is young, most of the life forms in other parts of the universe should be more mature than ours.
Is it possible that among the billions of planets and solar systems in the universe, evolution has created a species with the abilities of homo sapiens just once?
In his paper for the journal Microbiology, Martin Line reviews what is known about the formation of life. Abiogenesis started a process that ultimately yielded a genetically rich community of bacteria known as the "last common community" (LCC). From this community, the theory goes, the genetic tree branched and formed all that we know today. According to Line, we descended from the LCC about 3.8 billion years ago.
Biologists suggest that it took at least as long to get from abiogenesis to the LCC in the first place. In other words, from the start of abiogenesis through the LCC to modern times took 7.6 billion years (3.8 billion times 2).
Unfortunately, the earth is only about 4.5 billion years old. Here is how Line puts it:
In view of the complexity of the LCC relative to that resulting from all subsequent evolution, it is difficult to avoid the conclusion that at least as great a time span preceded the LCC as that which followed it. If so, we must search beyond Earth for the cradle of life. —Microbiology, 148:21-27 (2002), "The enigma of the origin of life and its timing", Martin A Line
"We must search beyond the Earth for the cradle of life."
In fact, we must search beyond our own solar system. If the numbers are right, those first molecules of life could not have come from the neighborhood, because it isn't much older than Earth.
Which brings us back to SETI. If the theory of abiogensis has any truth to it at all, the seeds of life on Earth must have traveled from some distant part of our galaxy.
These organisms would have had a daunting journey. Ejected in some massive explosion, hurled through the intense cold of space while exposed to hostile radiation, captured by our solar system and Earth's gravity, super-heated as they plunged into Earth's atmosphere. What a miracle, to survive such an ordeal. What serendipity, to land on this nurturing, life-friendly planet.
Is this the story that explains the rise of life on planet Earth?
If so, life is far more ancient than our own solar system. Other intelligent life forms must be out there, somewhere. Why haven't they contacted us?
It's a puzzle. Our universe is 13.8 billions years old. Are we to believe that just once in that long history has Darwinian evolution succeeded in creating a species like homo sapiens, a species with the curiosity and technical prowess to search for life among the stars?
Can we really be alone? And if not, where is everybody?