There is just no evidence for the existence of God. … So the relevance of evolutionary biology to atheism is that evolutionary biology gives us the only known mechanism whereby the illusion of design, or apparent design, could ever come into the universe anywhere. —Evolutionary biologist Richard Dawkins, Salon, April 30, 2005
It has been found that many features of the laws of physics seem to coincide exactly with what is required for the emergence of life to be possible. —Physicist Stephen Barr, Modern Physics and Ancient Faith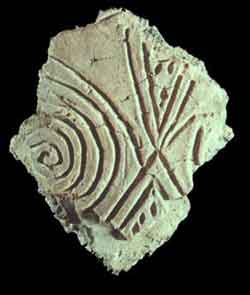 On a sweaty summer afternoon in South Dakota, I wandered aimlessly up a dry riverbed looking for rocks. I spotted something that didn't fit. Triangular, thin, slightly curved, and painted with a red zigzag—it was a pottery fragment. Its clay composition, uniform thickness and unusual markings led me to conclude that it had been formed by human hands guided by a human mind.
This potsherd had been carried to that particular spot by chance, moved by the random eddies of rushing water after a rain. I had stumbled upon it by chance, by looking in the right place at the right time. Surrounded by randomness, I stumbled on intelligent design.
Intelligent design (ID) claims that biological life could not have occurred by the natural selection of random genetic mutations, alone. It does not deny that Darwin was onto something. It's just that there's more to it than Darwin ever imagined.
Evolution was once explained by the simple aphorism, "if you give enough monkeys enough typewriters and enough time, one of them will produce a Shakespearian sonnet." But as mathematicians have subjected Darwinian claims to probability theory, some, like William Dembski, have come away unconvinced.
Dembski has written several books on the subject, including The Design Inference and Intelligent Design. The probability that a chance, unguided process created life as we know it is vanishingly small, according to Dembsky.
Moreover, in Darwin's day, cells were assumed to be unremarkable bits of jelly. Modern biochemistry has learned that cells are actually complex chemical systems containing many interdependent parts. Like the movement of a Swiss watch, these cellular machines don't function unless every part is doing its job. Darwin's linear, step-by-step process of mutation and selection is too feeble a mechanism to have produced such systems.
Dembski concludes, "Darwinism is… an oversold and overextended scientific theory."
Francis Crick, the Nobel prize-winning DNA researcher once said, "Biologists must constantly keep in mind that what they see was not designed, but rather evolved."
Such comments remind me of a scene from the Wizard of Oz. Dorothy, the Tin Man, the Cowardly Lion and the Scarecrow are cowering before the terrible image of Oz when Toto discovers a little man pulling levers behind a curtain. "Pay no attention to that man!" thunders Oz.
Phrases like "the illusion of design, or apparent design" give the impression that some biologists would like to dazzle us with smoke and mirrors while concealing the machinery behind a curtain.
Yes, design may be only an illusion. But there is a another possibility: design may be design.
Biology is not the only field disturbed by the ID debate.
The Big Bang has become the leading explanation for the origin of the universe. Big Bang proponents once thought of the universe as a wheezing accordion, forever expanding and contracting, expanding and contracting. With each collapse, the universe would destroy itself, only to explode and create itself anew.
Astronomer Edwin Hubble upset the apple cart. Hubble discovered that the most distant celestial objects were not slowing down in preparation for collapse—they were accelerating. Instead of a squeeze box, the universe is actually more like a fastball batted out of the park. With a mighty crack of the bat, the ball rises, rises, rises, and it's gone. The Big Bang seems to have been a one-time event.
It seems lucky, to say the least, that the Big Bang created a life-friendly universe on its very first try.
What came before the Big Bang? If it makes sense to say that the universe was born in that explosion, how did it gestate? How was it conceived? Did matter and energy materialize from nothing?
Physicist Stephen Barr has written about many of these issues in Modern Physics and Ancient Faith. The universe seems pregnant with so-called anthropic coincidences, phenomena that appear to have been carefully tweaked to support life. Like a gambler on a hot streak, life rolled seven after seven after seven after seven, to the point of nearly breaking the house.
Barr cites the strong nuclear force as an example. The strong nuclear force binds neutrons and protons together in the nucleus of an atom. According to Barr, if the strong nuclear force had been about 10% weaker, the 100-odd elements of the periodic table could not have formed. If the strong nuclear force had been about 4% stronger, stars would burn so rapidly that our sun might have already gone dark.
Another example is the 3-alpha process, a finely-tuned phenomenon that accounts for the abundance of carbon 12 throughout the universe. Carbon 12 is essential to biological life. If the energy level of carbon 12 had been slightly more or less than it is, the 3-alpha process would have produced too little carbon to support life.
Scientists protest that they cannot simply say "God did it" whenever they run up against a mystery. And they're right. Mysteries should always propel us to dig deeper and think more creatively. The investigation of mysteries always leads to more knowledge and better understanding of our world.
My quarrel with Richard Dawkins (and others like him) is the flippant dismissiveness shown towards the possibility that God has had his hands in the creation of the universe. When Dawkins the man claims there is no God, he states an opinion. When Dawkins the scientist says the same thing, he closes off a legitimate avenue of scientific inquiry.
Good science is open-minded science. Good science goes wherever the evidence leads. Good science values objectivity.
Searching for rocks in a dry river bed, I found evidence of design. It wasn't what I went looking for, but it's what I found.