About this time Jesus was informed that Pilate had murdered some people from Galilee as they were sacrificing at the Temple in Jerusalem.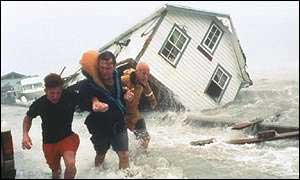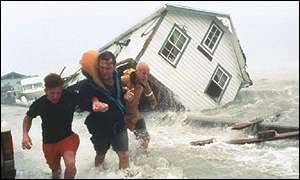 "Do you think those Galileans were worse sinners than other people from Galilee?" he asked. "Is that why they suffered? Not at all! And you will also perish unless you turn from your evil ways and turn to God.
"And what about the eighteen men who died when the Tower of Siloam fell on them? Were they the worst sinners in Jerusalem? No, and I tell you again that unless you repent, you will also perish." —Luke 13:1-5, NLT (Jesus speaking)
Who is responsible for the death and destruction inflicted by hurricane Katrina? Did God send the hurricane?
Was Katrina God's warning to abandon the shameless hedonism that New Orleans has made so famous?
Was Katrina the earth's indictment against our national addiction to the petroleum we slurp from beneath the Gulf of Mexico?
If God is loving, if God is powerful, why didn't he step in and protect his people from harm? Among the dead, the injured and the newly homeless, how many counted themselves as members of God's family of faith? Why did he ignore them in their time of need?
When those eighteen men died in a tragic accident in Jerusalem, some said it was God's judgment on their sins. Some are saying the same things about the people of New Orleans.
Jesus had a different interpretation: yes, the men were sinners, but they were no worse than anyone else in Jerusalem. If God had killed them as a judgment, why stop there? Why not wipe out the entire city?
If Katrina was neither a judgment against sin nor a heavenly shot-across-the-bow, we're off the hook.
But God is not.
Many Christians believe that God has intervened in history at various times for various purposes. The whole Intelligent Design debate revolves around the premise that while the universe obeys a set of natural laws, God himself has sometimes "tweaked" those laws just to make things exactly right.
Assume the ID premise is true. If God has reached into creation to give life a helping hand, why not reach down and put the kibosh on a killer like Katrina?
The Scriptures only give us a few hints.
The world that God first created was perfect. In his love for men and women, God awarded us the ultimate proof of his love: free will. We accepted the gift and exercised our right to turn away from God, our creator.
This act of rebellion, this first sin, was more significant than we could ever have known. It not only ruptured the relationship between humanity and its creator, it warped and fractured the perfect world that God had created. The world itself broke as a consequence of our rebellion against God.
How is that possible? Perhaps God withdrew his personal intervention. Perhaps Richard Dawkins was partly correct—the watchmaker has not misplaced his creation, but merely stepped back, allowing it to wind down and corrode, granting it the freedom to fend for itself without interference from the one who created it.
Perhaps a consequence of free will is that we have been put in charge of a planet that we did not create and do not understand.
Therefore, Katrina was not so much a punishment as a natural consequence of the choices we have made to rebel against God.
You may not know why God permits a given evil, and you're not going to find out in most cases. But you do know this: He's in it with us. He's willing to put up with suffering, too. … He himself pays a price. Maybe a price greater than any of us pays. Maybe a price we can't even grasp.

I read the Bible this time of year, about the Passion story and Christ willing to come down and suffer and die, and I find it overwhelmingly attractive and powerfully affecting and it just seems to be right. —Philosopher Alvin Plantinga, as quoted by Richard Ostling
God had a backup plan: Jesus re-entered history. He lived the gritty, sweaty life of a Jewish carpenter and itinerant preacher. He gave himself up to the Romans to be tortured and executed. He suffered horribly, and his suffering was in fact a punishment, a judgment, by God his father. Jesus was not punished for anything he did—the Scriptures say he lived a life of perfect obedience to God. He was punished for your sin, and mine.
God has not chosen to eradicate pain and suffering and natural disaster. Instead, he has shared in that pain with us. At first glance, it seems an odd response to a broken world.
But it's a response that grows out of love. And in the end, this love has the power to overcome the world's pain and suffering.
I have told you all this so that you may have peace in me. Here on earth you will have many trials and sorrows. But take heart, because I have overcome the world. —John 16:33, NLT (Jesus speaking)