What is the greatest mystery in physics today? … "How come the quantum?"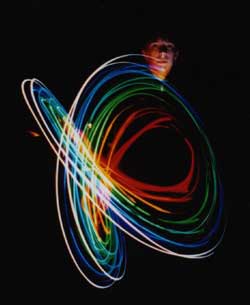 What is this thing, the "quantum"? It's a bundle of energy, an indivisible unit that can be sliced no more. Max Planck showed us a hundred years ago that light is emitted not in a smooth, steady flow, but in quanta. Then physicists found quantum jumps of energy, the quantum of electric charge and more. In the small-scale world, everything is lumpy.
And more than just lumpy. When events are examined closely enough, uncertainty prevails; cause and effect become disconnected. …chance guides what happens…
Albert Einstein, for one, could never accept this world view. … "I still cannot believe God plays dice." Then he added, "But maybe I have earned the right to make my mistakes." —Physicist John Archibald Wheeler, in an essay for the New York Times, December 2000
Every modern advance in technology owes its success to the discovery of a very peculiar theory of the sub-atomic world called quantum mechanics. Unlike classical physics—the laws of bodies in motion, for instance, which are boringly predictable as they slavishly obey mathematical formulae—the traditional understanding of quantum mechanics is probabilistic, not concrete. One cannot predict behavior in the sub-atomic world in advance; one can only calculate odds.
That is, until an observer steps up, leans in close and actually takes a peek at a streaking photon of light. Suddenly, in measuring the energy or position of a particle, probability becomes certainty, the indeterminate becomes concrete, the particle reveals its secrets to the observer.
In other words, in classical physics, a tree falling in the forest makes a sound whether a person is there to hear it or not. But in quantum mechanics, nothing can be certain, nothing can be known, unless a mind is there to observe and measure what has occurred.
You see, the quantum mechanical description is in terms of knowledge, and knowledge requires somebody who knows. —Sir Rudolf Peierls
Weirder still, recent experiments in quantum mechanics have suggested that a single photon of light is able to be in two widely-separated places simultaneously, a result that is utter foolishness in the material world of classical physics, but seems to be business-as-usual among the invisible particles that are the building blocks of our concrete, material world.
If Einstein had been a baseball fan, he might have observed that God not only pitches a blistering fastball (299,792,458 meters per second!), but quantum mechanics proves that he throws an unhittable curveball, too.
Enlightenment Science, full of youthful hubris, claimed that it could unravel the secrets of the universe and prove that "God" was nothing more than a set of mechanical laws governing the passage of day to night and life to death. But God has had the last laugh. As the search for understanding drives us deeper into the foundations of life and the mechanics of the universe, we have discovered awesome complexity, unexpected mystery, and mounting evidence that some Genius might just be the Source of all that we are and see.
Turning back to quantum mechanics, the apparent requirement for a conscious, thinking observer who stands outside of the system and takes notes leaves many physicists cold. In his book, Modern Physics and Ancient Faith, Stephen Barr writes:
…the idea that the mind plays a role is highly controversial, and is looked at with great suspicion by many, if not most, physicists. As Euan Squires observed, "It is probably fair to say that most members of the physics community would reject [these] ideas… [However], their reasons would be based more on prejudice than on sound argument…
Quantum theory has become the darling of modern physics because of its elegance and perfect experimental track record. Perhaps some future variation of the theory will free it from any connection to the mind. But for the moment, the philosophical implication of quantum mechanics is that the universe cannot exist in a vacuum—at the level of indivisible particles, the universe has been constructed with a built-in need for people. Or God. Or both.
Quantum theory seems to require us to step beyond the material to the metaphysical. It suggests a need for consciousness, for mind, for something that is more than just a collection of synapses in a glob of gray-matter. It seems to demand something transcendent, like intelligence or being. Again, to Stephen Barr:
Eugene Wigner, a Nobel Prize-winning physicist, in a classic essay on the implications of quantum theory, wrote that quantum theory is incompatible with the idea that everything, including the mind, is made up solely of matter:

"[While a number of philosophical ideas] may be logically consistent with present quantum mechanics, …materialism is not."
Perhaps the most awesome implication of quantum mechanics is the possibility that the universe only functions because it is continually observed by one who never blinks nor sleeps.
Don't be afraid of those who want to kill you. They can only kill your body; they cannot touch your soul. Fear only God, who can destroy both soul and body in hell. Not even a sparrow, worth only half a penny, can fall to the ground without your Father knowing it. And the very hairs on your head are all numbered. So don't be afraid, you are more valuable to him than a whole flock of sparrows. —Matthew 10:28-31, NLT (Jesus speaking)
Christians have nothing to fear from science. As mystery leads to mystery, God continually leads us back to himself. King David seems as wise today as he did 3,000 years ago:
The heavens tell of the glory of God.
The skies display his marvelous craftsmanship.
Day after day they continue to speak;
night after night they make him known.
They speak without a sound or a word;
their voice is silent in the skies;
yet their message has gone out to all the earth,
and their words to all the world.
—Psalm 19:1-4, NLT