When Silas and Timothy arrived from Macedonia, Paul was occupied with the word, testifying to the Jews that the Christ was Jesus. — Acts 18:5, ESV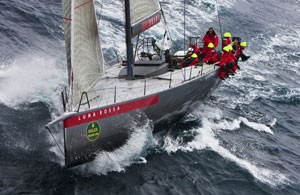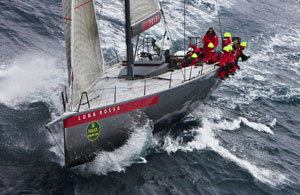 Back when I was in college, I had a good friend who lived on the North Carolina coast. Brack and I owned a small sailboat together, and whenever I could escape from work and classes in Raleigh, I would steal down to Beaufort, NC, for some sailing. (FYI: In North Carolina, the town's name is pronounced BO-fert. In South Carolina, I'm embarrassed to tell you, they say BEW-fert. Lord, have mercy.)
We'd take the boat out behind Horse Island, past the deep military anchorages at Radio Island, then tack for the golden sands of Shackleford Banks. Once outside the lee of the islands, the wind would heel us hard over. We'd turn east for Cape Lookout and hike out over the rail as we raced along in the cool salt spray, giddy with delight.
There is a deep channel near Radio Island, dredged and marked for large ships. In our shallow draft sailboat, we could pretty much ignore the channel markers and sail wherever we wanted. But the heavy tankers docking at Morehead City have to carefully navigate the marked channels so as not to run aground.
The channels constrain and restrict the big ships' movements, but the channels also keep them safe from harm. A great many vessels have gone to the bottom off the Outer Banks through a deadly combination of violent storms and shifting shoals, which is why the area is nicknamed The Graveyard of the Atlantic.
In the 18th chapter of Acts, the Apostle Paul traveled to the Greek city of Corinth, an important port city and center of Asian trade. As elsewhere, Paul found ample opportunities to talk about Jesus and to debate the important question: Was Jesus the prophesied Messiah? He supported himself during this time by making tents, working alongside a Jewish couple who had been pushed out of Rome and were starting over in Corinth.
The writer of Acts tells us that Paul was synecho with the Word. That Greek word is usually translated here to suggest that Paul was busy in his spare time preaching, and indeed he was. But the word synecho has more going on than just busyness.
In one instance, synecho is used to mean "gripped by" a fever. In Luke 8:45, it describes the way that Jesus is hemmed in and constrained by a great crowd of people. In another passage, it refers to being held captive in prison. It is even used to describe the practice of putting one's hands over one's ears to shut out unpleasant sounds.
Taking these things together, the use of the word synecho here suggests that Paul was held fast by the Word of God. His life was directed along a deep channel dredged by the Holy Spirit. He was not "prone to wander," to borrow a phrase from Come Thou Fount of Every Blessing. Nor, in fact, did he want to wander. He shut out the distracting voices of the Corinthian pantheistic spiritual marketplace and focused his attention on the person and words of Jesus.
To our western way of thinking, this sounds wrong. Paul was in a place where he could learn much from the diverse cultures who met to do business in Corinth.
But Paul had already met Jesus on the road to Damascus. He had been convicted by and convinced of God's call on his life. He had come to believe that the Word spoken by Jesus was true and life-giving, restoring men and women from brokenness to a new relationship with God.
He allowed himself to be constrained by that truth, to be wrapped up tightly in that lavish grace, to be held fast by that miraculous rebirth from death to life first demonstrated by Jesus himself.
Paul allowed himself to be hemmed in on all sides by the Word of Christ, so that he could not stray even an inch from the loving mercy of his Lord.
Sailing on the rolling Atlantic in a small boat was exhilarating, but it had its dangers. We had to watch out for storms, which could easily tear our sails and swamp us with breaking waves. We had to watch out for other boats, which might not see us. We had to get back to safety before dark, because we had no lights. Despite our shallow draft, we still had to watch for shifting shoals so that we wouldn't damage our hull and rudder.
When God's Word constrains us, when it hems us in and surrounds, we lose the freedom to wander among the shoals — and avoid the terrible consequences of running aground.
What we gain in the bargain is the joy of sailing flat out, close-hulled, heeled over and hiked out on the rails, slicing through the deep, blue waters of God's boundless love and abundant life, with the winds blowing fair and steady all the way to the horizon.
Photo credit: Carlo Borlenghi, Rolex