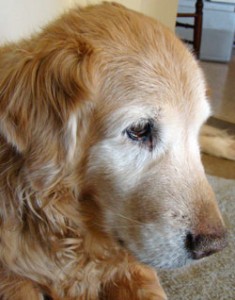 Yesterday, I put my dog to sleep. She was Amber Golden Waves of Grain, or just Amber to us, a very light golden retriever whose silky fur glistened like gold in the sun and whose eyes danced with joy whenever she was near us. Amber's expressive eyes always telegraphed her feelings. I'm bored: play with me. It's a beautiful day outside: let's go for a walk. I need love: scratch me behind the ears.
She was fourteen and a half, which is like 101 in dog years. She had lost much of her hearing, she couldn't see well, her stamina was gone. She had cancer, and the disease had robbed her of her vitality.
When she was young, Amber had boundless energy. I can remember running with her in the cool grass of the local golf course. No matter how fast I ran, she stayed just ahead of me, looking back occasionally to see if I was keeping up. We often played a game of run-to-the-house-from-the-kennel, and those four muscular legs always showed me up, even when she gave me a head start to keep it fair.
She loved swimming. Golden retrievers are bred to swim out from a duck blind, gently retrieve a killed bird and return it to the hunter. They have very soft mouths, and when I drove down the driveway after work, Amber would frantically search the house for one of her stuffed toys so that she could greet me at the door with a gift in her mouth.
We had a relationship, a bond, a cross-species connection. I don't fully understand how that's possible, but it is. We watched out for each other. We trusted each other. We loved each other.
True love is generous, selfless, and is often expressed towards those who can't return the gift in the same way, if at all. For parents of autistic or severely brain damaged children, love can appear to be a one way street. Alzheimer's strips away personality and steals the memories of a lifetime of relationships. And yet, I have seen many such people loved generously and tirelessly by parents, children, spouses and caregivers.
It is not merely an interesting human quality, this capacity we have for love; rather, it is that loving others selflessly is the essential core of what makes us truly human. We are diminished when we don't embrace the opportunity to love someone else, without holding back, without expecting reciprocity. If we only love ourselves, or only those who might love us back in some way, we don't actually know the first thing about love.
The Scriptures hold up God as the archetype of generous, selfless, unilateral love:
Now, most people would not be willing to die for an upright person, though someone might perhaps be willing to die for a person who is especially good. But God showed His great love for us by sending Christ to die for us while we were still sinners. — Romans 5:7-8, NLT
When I was a young man, my life revolved around myself. It's true for most young men. There wasn't much room in my heart for anyone but me and the things I was interested in. My children were the first to pry open the door of my heart and teach me what love really is.
My dog continued the lessons. She would often sit in the doorway of my office and patiently watch me type on the computer. There would come a point when she couldn't restrain herself any more, and she would walk up to my side, force her nose under my elbow and look up at me with those brown eyes as if to say, "You're working too hard. Let's go have some fun!"
I could never resist those dancing eyes.