We are stardust, we are golden
And we've got to get ourselves back to the garden
— Joni Mitchell, Woodstock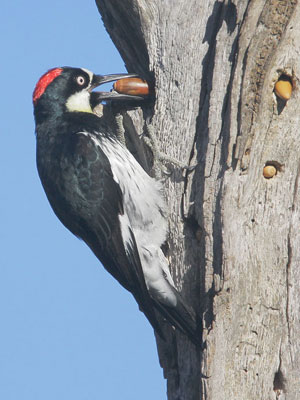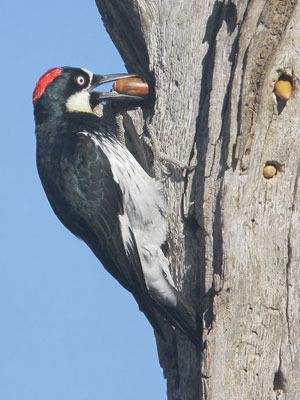 I hiked the Old Baldy trail in Madera Canyon last weekend, making it to Josephine Saddle at 7,080 feet before starting back down the longer and hotter Super Trail. The hike was about 6.5 miles with an elevation gain of 1,600 feet from my starting point.
Madera Canyon is one of southern Arizona's "sky islands," those rugged, mountain regions that seem to spring up out of nowhere from the desert floor. The tallest peak is Mt. Wrightson at 9,453 feet. Here also is Mt. Hopkins, home to the Smithsonian Institution's Multiple-Mirror Telescope (MMT). The high elevations and mountain weather patterns have made Madera Canyon into an alpine forest, home to hundreds of species of birds.
I'm not a "birder," but I went hoping to see some birds that don't live in the drier part of the desert where I make my home. I spotted several I hadn't seen before, the most interesting of which was the Acorn Woodpecker.
True to their name, these birds crave acorns and spend most of their time collecting and storing acorns. The Acorn Woodpecker is described as having a clown-like face, and the large white bands on their wings and tails make them quite distinctive in flight.
It was especially interesting to see perhaps 10 adults working together to feed a group of babies squawking away in a tree. That's characteristic of these birds. As the juveniles grow into adulthood, they stick around and help mom and dad raise each new brood of young birds.
There's a parable in there, I'm sure.
Along the trail were scores of different wildflowers. A great many were trumpet-shaped, the sort hummingbirds love. I passed beds of ferns, moss-covered rocks, springs bubbling with cold water. None of these are especially remarkable, but…
I've always said that the thing I miss the most about desert life is water. The sound of a creek tumbling downhill over rocks. Lakes teeming with fish and frogs. The crashing waves and salt smell of the ocean. Water was abundant in the places I grew up in, but not here.
Madera Canyon is lush. It is a water-soaked oasis in the desert, and the birds know it.
Israel lived in the desert and understood that water meant life, which may be why water is mentioned so frequently in the Bible. Wells were important meeting places where travelers could exchange news with locals while refilling their water skins. Hauling water home for cooking and washing was a daily chore in every household, as it still is in much of the world.
The Garden of Eden was planted beside a river. I confess, I had something like that in mind as I hiked through that quiet forest. My heart felt light, the air was cool, the sounds of the distant creek and the birds and the wind in the trees lifted my spirits. I felt as if I was walking in Eden.
I paused a few minutes to rest at Josephine Saddle, a level place where several ridges and trails come together. As I wandered a bit, I came upon a simple memorial made from rocks piled around a wooden, hand-lettered sign. It asked hikers to pause and remember November 15, 1958, when three Boy Scouts, all teenagers, lost their lives nearby. They had gotten lost in the forest somehow, and before they were found, a freak storm dropped several feet of snow on the area. The three boys perished. Mike Early was 16, David Greenberg was 12 and Michael J. LaNoue was only 13.
I did the math; they would all be in their 60's today if they had lived.
Their lives were poured out on the mountain like rain. Scout troops passing the memorial have tended it ever since and left small signs behind that say, simply, "We remember." I left a prayer.
For all of its lush beauty, Madera Canyon is not Eden. It is a place where the blessings of rain and abundant life are mixed with sorrow and tragedy, like every other place on earth.
Why did God allow 3 boys to freeze to death in the mountains? There are no adequate answers, really. We only know that In this time and place, evil and good live together, sorrow and joy live together, God and the enemies of God live together. While we live in this world, we get dirty with the world's dust.
It's tempting to think that we can build a protective fortress around ourselves if we eat organic and tread lightly on the earth, if we amass good karma by thinking good thoughts and practicing kindness to others… But Eden is gone, and the best places, the best homes, the best people are all still touched by tragedy, sorrow, and sin.
As I made my way down the mountain, a small stick got into my boot somehow and pressed painfully against my ankle, stabbing the bone as I walked. It was the hottest part of the day and the trail was now in full sun. I think I sweated more going downhill than I had climbing up. And I couldn't get those Boy Scouts out of my mind. Such a tragedy. So young. So sad.
In their last conversation before he was led off to the cross, Jesus spoke to his disciples about grief and sorrow:
I tell you the truth, you will weep and mourn over what is going to happen to Me, but the world will rejoice. You will grieve, but your grief will suddenly turn to wonderful joy. It will be like a woman suffering the pains of labor. When her child is born, her anguish gives way to joy because she has brought a new baby into the world. So you have sorrow now, but I will see you again; then you will rejoice, and no one can rob you of that joy. — John 16:20-22, NLT (Jesus speaking)
That same promise exists for us, too, if we put our trust in Jesus Christ. We will see Jesus. We will be set free from this world of beauty mixed with sorrow just as He was. We will see Him face to face, and when we do, all our sorrows will give way to joy.
Photo credit: Tom Grey, Tom Grey's Bird PIctures (used by permission).