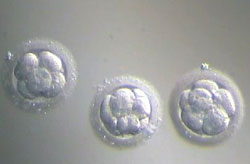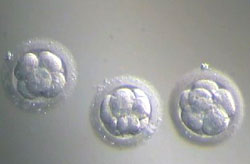 Justin and Heidi Dierking started trying to have children within months after they were married in 2004. At 32, Heidi married late (typical of many modern women) and knew that her body was in the late stages of its reproductive capabilities.
Still childless two years later, the Dierkings began medical tests, which failed to uncover any problems. The fertility drug Clomid didn't help. Finally, with the clock ticking, they sought help from the Center for Reproductive Medicine in Minneapolis, a clinic that is part of an estimated $3 billion fertility industry in the US, many specializing in in vitro fertilization (IVF).
IVF is a procedure in which sperm and eggs are combined in a petri dish and incubated in an environment favorable to reproduction. Once evidence of cell division is seen, the two healthiest blastocysts are carefully implanted into the woman's uterus where, if all goes well, they will attach and grow.
The procedure seems to have worked for the Dierkings; doctors harvested her eggs, combined them with her husband's sperm, and Heidi Dierking is now pregnant and expecting twins.
(The Minneapolis Star-Tribune's Chen May Yee and Josephine Marcotty have written an excellent series of articles on the fertility industry titled Miracles for Sale. Read these stories here, here and here. Free registration is required.)
IVF has made headlines because it has been used by single women and lesbian couples to conceive children outside of the normal confines of a marital relationship. But it is also becoming the accepted treatment of last resort for any couple who can't conceive children normally — the procedure is accepted enough to be covered by many insurance policies.
Most IVF clinics advertise 50% success rates, and competition has forced many to offer money-back guarantees if the expensive treatment doesn't result in a viable pregnancy.
Christian ethicists are trouble by IVF. In this explanation of Catholic teaching, IVF is called gravely evil, very strong words for what seems on the surface to be a medical procedure offering hope to childless couples.
1
Samuel 1 tells the touching story of Hannah, wife of Elkanah, who was tortured by her inability to have a child. Her husband loved her deeply, but Hannah still felt the grief and social stigma of her barrenness.
Hannah prayed and God answered by giving her a son, Samuel, who became an important priest in Israel.
Modern science — not having much patience with prayer — has learned many of the secrets of reproduction and has put that knowledge to work. IVF and many other fertility techniques pose ethical problems, however.
Multiple embryos are created in many of these techniques, requiring what is euphemistically called "selective reduction" or the intentional abortion of "extra" embryos, leaving only one or two to be carried to term. IVF tries to better the odds of creating a viable embryo by fertilizing a great number of eggs simultaneously. The most healthy are chosen for implantation while the others are frozen for possible later use, or destroyed outright.
Biologically, a human embryo is a living human being at its earliest stage of development. The embryo is dependent on a woman for nurture and life, but it is a genetically distinct organism, different from both the egg and sperm that it grew from, and it needs nothing more than nourishment to grow into a recognizable human being — a point on which both science and Christianity agree.
Therefore, Christians argue that the destruction of embryos in the IVF process requires the destruction of human life in order to create human life.
Just as troubling is the fact that IVF encourages the commoditization of human life. Young women, many of them single and in need of cash, are signing up on websites like Egg Donation, Inc., where they post photos of themselves next to their personal profiles, offering their eggs for cash. Typical profiles include details about their likes and dislikes, their ethnic background and their educational level and talents, in addition to such basic facts as height, weight and hair color. Egg purchasers are encouraged to browse the site in search of the perfect set of qualities for the child they hope to bear.
The Star-Tribune series profiled Caitlin, a young Canadian artist who received $6,000 for her first egg "donation" and $8,000 for a second one, both to women whose own eggs were no longer viable.
Caitlin was drawn to egg donation by the realization that her eggs were going to waste with every menstrual cycle. "I think it's great," she said. "Men have always been able to spread their genes. Now I can spread my genes."
Caitlin obviously got A's in her evolutionary biology classes.
Where does it take us as a society if the buying and selling of human life becomes normal? What will be the emotional impact on children who are conceived in a petri dish, especially those created from eggs and sperm purchased on the Internet? Will they come to see themselves as scientific freaks?
IVF already allows doctors to do genetic testing prior to implantation. Sex selection is possible, and with further technical refinements genetic "enhancements" might become an option. Will parents someday have the ability to select genes for intelligence, for artistic talent, or for beauty?
Will parents who pay big bucks for a quality embryo badger their children harder to achieve greatness? Will such a parent lose affection for her child if she turns out to be just your average, ordinary underachiever? (Can you sue an egg donor for product liability if your IVF child drops out of college?)
What we risk in this brave new world of human reproduction technology is the diminishment of human dignity. Christianity clearly teaches that every human being is the unique and precious creation of God, an individual whom God loves, an individual for whom God has specific plans and hopes, an individual for whom Christ sacrificed himself on the cross.
In the Christian view, we inherit our human dignity and worth from God, the author and creator of all life.
If we use our human genius to manufacture children in laboratories, if we purchase them on American Express and select them genetically like a Baskin-Robbins' flavor-of-the-month, we inevitably demean human beings and the intrinsic value of all life, in the process.
Hannah's childlessness grieved her terribly. As the father of two children, I understand something of that grief: my children have brought me immeasurable joy. If the church calls IVF a "great evil," it puts itself in the wretched position of labeling infertile women who turn to IVF "great evil-doers." The church must show these women Christ-like compassion and real help with their pain.
At the same time, the risks to society and human dignity posed by IVF and other such fertility technologies is enormous. We cannot let our compassion for childless women cause us to fail to take a hard look at the ethical implications of this new science. Science is in the business of pushing back the frontiers of knowledge. The church has to serve as science's conscience and the guardian of human dignity.
Photo credit: 3-day-old embryos created by IVF, from Sir Ganga Ram Hospital Centre of IVF and Human Reproduction.