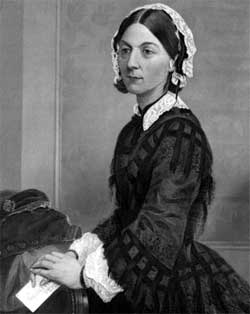 She was 17 when she heard the voice of God in a garden, a voice telling her she should devote herself to serving others. 17 years later, she headed up a corps of British nurses who went to Turkey to aid British soldiers wounded in the Crimean war.
She discovered those hurting young men packed together like sardines in unsanitary wards. They were poorly fed and treated. Most were dying from disease, not their wounds.
She and her nurses set to work improving conditions and developing a set of patient care protocols, later formalized on her return to Britain into a standard of nursing care that she used to train Britain's first professional nurses.
Florence Nightingale's methods, and her ideas about nursing as a profession — applying human compassion with the best of scientific knowledge — transformed backward 19th century health care into what we know today.
Over the past days I've watched a small army of royal blue-coated nurses — Shelia, Valencia, Dionne, Terry, Lisa, Sherry and others whose names slip my mind — work around the clock to encourage my mom's healing from a 7-hour spinal surgery. They have measured and recorded, looking for signs of progress or the first signs of trouble. They've administered medicines; they've monitored her wounds; they've gotten her up and moving to keep her muscles active.
Most of them work 12-hour shifts and they rarely have time to rest. Day and night they remain vigilant, using science and their knowledge of the body to anticipate problems before they become serious.
I have been amazed at how unfailingly caring and cheerful they are, despite the pressures on them. How are you feeling? How is your pain on a scale of 1 to 10? Can I get you anything? Do you have any concerns? Can I help you?
They come alongside of us when we are vulnerable, when we are weak and tired, assaulted by disease and the surgeries and chemicals we use to treat disease. They reassure us and smile and help us fight the difficult fight through to recovery.
Florence Nightingale's entry into nursing came at a time when nurses were routinely poor and uneducated, with no formal understanding about disease and healing.
Her parents were aghast that she would enter such a lowly profession. She was undeterred by their lack of support. She was called by God, after all.
What does it say about the heart of God that Jesus was a healer? We have all sorts of theories about God. Law giver. Judge. Ruler. Creator.
Through Jesus we see a tender-hearted God, a compassionate God, a God who heals our hurts and restores us to health. It was this God who seems to have spoken to Florence Nightingale. It is this God who freely offers His restorative grace to all who need it, pouring out His healing balm liberally on all who ask for it.
There is a balm in Gilead, to make the wounded whole
There is a balm in Gilead, to heal the sin-sick soul. — Balm in Gilead, American Negro spiritual
Jesus returned to the Sea of Galilee and climbed a hill and sat down. A vast crowd brought to Him people who were lame, blind, crippled, those who couldn't speak, and many others. They laid them before Jesus, and He healed them all. The crowd was amazed! Those who hadn't been able to speak were talking, the crippled were made well, the lame were walking, and the blind could see again! And they praised the God of Israel. — Matthew 15:29-31, NLT
The healing profession does God's work. Sometimes the church erroneously gives the impression that God only cares about our souls, our hearts, whether we are living holy and upright lives.
There can be no doubt that He cares about those things. But He also understands — feels — our pain and suffering. He stands ready to reach out His hand and touch us, heal us, restore us to wholeness.
The heart of God is the heart of a healer.
(One more thing: My Mom is home again after her surgery and doing great.)