"I know that there's a tendency to think that everybody can get counseling or can have a bowl of tomato soup and everything is going to be all right," she said. "But I think that evil exists, and I think that he was a mean person." — VT poetry professor Nikki Giovanni, on her former student Cho Seung-Hui, the Virginia Tech mass-murderer. Associated Press, April 18, 2007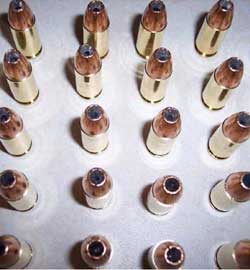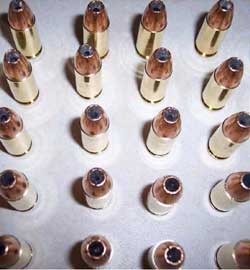 He used hollow-point bullets. At least that's my guess, based on the photo Cho Seung-Hui sent to NBC News and the high death rate. Hollow-point bullets are designed to inflict the greatest possible damage to a human target. The slugs pierced heavy wooden classroom doors, and human bodies, with ease.
How does a bright, young member of our human community become so empty of compassion that he can coolly kill even one innocent, much less 32 of his fellow students and teachers — and with less concern than he might show swatting flies?
Secular modernism appeals to mental illness as an explanation for such horrors. Christianity blames Evil.
The word evil illuminates a point of strong disagreement between Christianity and modernism. Secularism cringes at the word and its implication that there are moral imperatives — we're far more comfortable with moral suggestions.
Nikki Giovanni hit the nail right on the head when she said, "there's a tendency to think that everybody can get counseling or can have a bowl of tomato soup and everything is going to be all right."
This scientific age we live in sees all deviancy as a puzzle to be solved through the application of rationalism. Anti-social behavior and mass-murder are like the measles, dealt with by a therapeutic inoculation of counseling and medication.
And yes, therapy and anti-psychotic drugs work. Sometimes.
It's tempting to believe that in this particular case, the best science was not applied. The system failed. Had Cho Seung-Hui not resisted the attempts of medical professionals to help him, science could have reached him.
There are people who don't want to be reached. Cho appears to have turned his back on everyone who reached out to help him. He seemed unwilling to let go of his rage. Perhaps he enjoyed playing the victim. Perhaps he found it easier to withdraw from society than risk joining in. Perhaps, as many have before him, he bought into the lie that rejecting God and embracing Evil makes one free, unconventional, avant-garde.
Whatever his warped motivation, Cho clearly embraced the dark side. He hunkered down in human isolation, rejecting every social benefit the Virginia Tech community might have offered him. At a university rich in spiritual opportunities, he rejected faith outright, choosing instead to wallow in a terrible stew of anger, hurt and self-loathing.
None of these are the fruit of communion with God, whose Spirit lights in us the fires of love, joy, peace, patience, kindness, goodness, faithfulness, gentleness and self-control. (Galatians 5:22)
Evil lusts after death and delights in wickedness. It is emotionally untouched by the most sickening acts of cruelty. Evil, in the Christian view, is a way of thinking and behaving that is the antithesis of all that is good and just and pure. Evil is anti-God, anti-Christ, anti-love.
Most secular modernists are decent people. They have rejected God, but that is not to say that they don't attempt to live decent and moral lives. They walk in the garden of earthly delights and breathe deeply, enjoying the fragrance of lilies on the breeze as much as anyone. They would rather not believe in the existence of a Gardener because of all that it would mean in the nitty-gritty realities of their lives. But they nevertheless enjoy the scents of life and benefit from the unseen handiwork of God in the world.
A few, like Cho Seung-Hui, are repulsed by the fragrance of God's garden. They seal themselves inside a plastic bubble and spend their lives sucking in the stench of their own fetid breath. Instead of laughter and music, they only hear the ravings of their inner rage.
The New Testament tells of a man, or men, possessed by many demons. These men were thoroughly mad and isolated from normal society. The community was terrified of them. In Matthew's account, he says:
When Jesus arrived on the other side of the lake, in the region of the Gadarenes, two men who were possessed by demons met Him. They lived in a cemetery and were so violent that no one could go through that area. They began screaming at Him, "Why are You interfering with us, Son of God? Have You come here to torture us before God's appointed time?" — Matthew 8:28,29, NLT
Even without hollow-point bullets, Evil created its own terrors. A whole community lived in fear. The two men screamed threats at Jesus, the man of peace; they knew instinctively who he was. After causing so much terror themselves they found the tables turned — now they were afraid, of Jesus.
That's odd, when you think about it. You don't see many in the Gospels showing fear of Jesus, but these men were afraid. Irrationally afraid, as it turns out. Jesus didn't intend them harm; he set them free from their bondage to Evil.
At the end of the account in Mark 5, the terrorist is at peace, fully clothed and in his right mind at last, because of Jesus' healing touch. And the whole community was amazed.
Two millennia later, in a time of great spiritual skepticism, mental derangement of the sort exhibited by Cho Seung-Hui is as big a problem as it ever was. It continues to defeat our scientific approach, yet we refuse to give it a spiritual diagnosis.
Beside the names of Dylan Klebold and Eric Harris, Jeffrey Dahmer, Ted Bundy and Charles Manson, Pol Pot, Adolf Hitler and Joseph Stalin, we now add the name Cho Seung-Hui.
They all rejected God. They were all deluded, and ultimately betrayed, by Evil. Together they murdered millions of innocent men, women and children.
There will be more. And they'll be armed with hollow-points — or worse.
Photo credit: NBC News, from Cho Seung-Hui's "Manifesto".