"Come now, let us reason together," says the Lord. "Though your sins are like scarlet, they shall be white as snow; though they be red as crimson, they shall be like wool." — Isaiah 1:18, NIV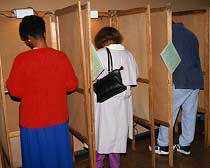 I have as many political opinions as the next guy, but I try to stay away from politics here on AnotherThink. Where issues of ethics and morality become political, I'll make my case. But too much of what passes for political "debate" on the web is really just kids shouting insults across the playground — I graduated from first grade a long time ago.
However, I've discovered two political websites that are trying to put some civility back into political conversation. One is a blog called Red Blue Christian, the other is a "community" that calls itself Faithful Democrats.
Both sites are attempting to draw Christians into a dialogue about how Christianity should shape politics. Each site uses a stable of writers, which means a variety of interesting viewpoints.
According to a recent survey conducted by the Pew Charitable Trusts:
The Democratic Party continues to face a serious "God problem," with just 26% saying the party is friendly to religion. However, the proportion of Americans who say the Republican Party is friendly to religion, while much larger, has fallen from 55% to 47% in the past year, with a particularly sharp decline coming among white evangelical Protestants (14 percentage points).
Both numbers reflect a growing secularization of politics. The Democratic party is hostile to people of faith, though their losses in 2004 have caused some to reconsider. Republicans have famously courted religious voters, but many are beginning to think they have little influence on the party except to help it win elections.
Government is necessary to establish a just society. In a pluralistic democracy, politics is the best way to build a government that is accountable, and that reflects the values of society.
Christians have a responsibility to be politically informed and involved. And politics needs the salt and light of Jesus Christ, in the form of men and women of faith. Jesus hung out with tax collectors and prostitutes — you can connect the dots.
"Come now, let us reason together." Go get involved in the dialogues taking place at Red Blue Christian and Faithful Democrats.
Photo credit: Citrus College