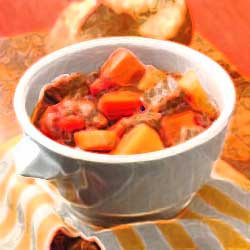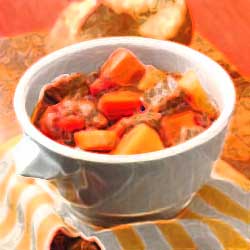 Blogs are windows into the lives of real people — their opinions, their quirks, their passions. People are interesting. We're made in the image of God, so I see reading these conversational things we call blogs as a way of gaining insight into other people, and along the way, gaining glimpses of God at work in the ordinary events of life.
I thought it might be fun to introduce you to some of my favorite bloggers. You're here because someone pointed you towards AnotherThink. The blogging world works through links — introductions, really. I'd like you to meet some of my friends.
I'm going to call this feature Blogger Stew, since it'll be a mix of a lot of interesting flavors and ingredients.
So, for my first introduction, allow me to present Julana who writes at Life in the Slow Lane.
Julana is a wife and mother living somewhere in Ohio. She's Mennonite, a Christian faith community I know very little about, but Julana's posts are educating me. She often writes about very ordinary things — but always, it seems God is right there, not far from her thoughts, meeting her in the sacred commonplace.
Here's an example of what makes Julana special, a post she called "Why is this night different from all other nights?" She had been making breakfast when she heard "three thumps." Running toward the noise, she found her son in a heap at the bottom of the stairs — he'd lost his balance and taken a painful tumble. A trip to the emergency room revealed only superficial injuries. And then she wrote this:
If the worst had happened, I would not cry because we lost our son with Down syndrome, but because we lost our son. I would cry because he had not yet learned to talk, and I had not gotten to know him like I wanted to.
Julana writes with unvarnished honesty, and love.
Her son was born with Down syndrome, a mental disability that happens from a genetic coding error. He undergoes therapy to help him master the skills that come easily to most of us. Julana writes about these in a series of "therapy notes" that I've grown to appreciate. I can be a little obtuse. These posts have helped me understand a little better people who aren't like me.
I asked Julana if educating people about Down syndrome was one of the purposes of her blogging.
Finding a forum to share some of the things I've learned along the way, with [my son], was one of my motivations… My "real life" seemed split between the world of special needs and the parallel world alongside, and oblivious to, it. The blog became a way for me to integrate those two worlds in my own thinking.
I think my original hope was that [my blogging] would make people with disabilities more welcome in [my readers'] churches, not only to attend, but to become involved. Maybe they would offer periodic respite care for a family desperately in need of it, or have their child be a "buddy" to a child with special needs in Sunday School.
Now I hope they are not afraid, ill-at-ease, or pitying, when they meet a person with a disability. I hope they're able to approach with respect, look them straight in the eye, address them as if they're on the same cognitive level, and have a meaningful interaction. I hope they're able to offer help, without being condescending, if the person appears to need it in a specific way.
My aim has become more oriented toward having readers see people with special needs as offering potential for relationship, rather than for service.
Julana has met other bloggers with special needs children and she links to some of them. Blogging brings together people who have similar interests, and needs. The blogging world is more than just politics, thank goodness.
I asked her how she saw God at work through her blogging. "Blogging is kind of like poetry," she replied. "A post is an invitation to pay attention to a particular facet of reality. In my blogging, I usually pay attention to the good particulars that surface in my life, the evidence that God is there, and He is working. … The posts are a kind of testimony: these things have meaning; they're significant, important."
Lots of us wonder how to measure the significance of what we do. Julana mentioned being influenced by a post written by Catez Stevens at All Things 2 All called The Meaning of Success.
I can't measure how God has used Life in the Slow Lane in the blogosphere; I only know how He has allowed it to affect me personally. Through it, I have received:
+ a sense of being heard;
+ a sense of affirmation;
+ a sense of my own limits, on the type of writing I'm able to do;
+ the opportunity to connect with thinking Christians.
I think I've begun to change my paradigm for the connection between the church and people with disabilities to be primarily one of relationship (communion) rather than of service (washing feet). We don't wash feet until it's seen as reciprocal. And that change in my thinking has probably happened through blogging.
Add Life in the Slow Lane to your daily reading. You won't regret it.