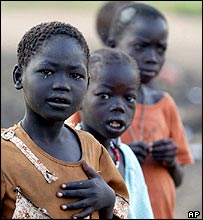 Christmas will not come to Darfur this year.
Catez of All Things 2 All is hosting the third collection of posts on the continuing story of genocide and despair in the Sudan. She describes Spotlight on Darfur 3 this way:
In the Western world Christmas has become a time of glitz and tinsel, and also for many a time to give and receive gifts. The contributors to this Spotlight on Darfur are diverse and do not represent any one organization or group. But we share in wanting to give something to the people of Darfur at this time, and we hope for peace in that troubled and conflicted area.
Western governments, humanitarian organizations and the United Nations have taken steps to restore peace to the Sudan, but the violence and suffering continues. Most of the victims are unarmed families who have been driven from their homes and are living in refugee camps.
A very good background article on Darfur has been posted on the BBC: Q & A: Sudan's Darfur Conflict.
By shining a spotlight on the Sudan, especially at Christmas, Catez hopes to encourage good people to look for ways to get involved. Go read these posts, and see for yourself the suffering and the need of the people of Darfur. Then ask: what can I do to help?
Photo credit: The BBC