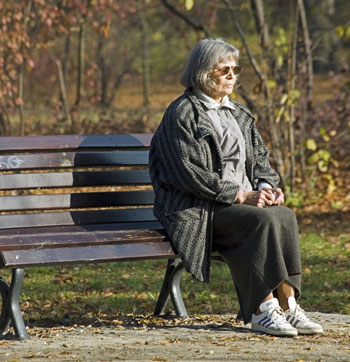 Dr. Mark Powell: I'd like to begin by asking you... if you know why you're here.
Prot: Of course. You think I'm crazy.
Powell: I prefer the term "ill". Do you think you are... ill?
Prot: A little homesick, perhaps.
Powell: Really? Where is home?
Prot: K-PAX.
Powell: K-PAX?
Prot: ... K-PAX is a planet. But don't worry. I'm not going to leap out of your chest. — dialogue from the 2001 film K-PAX
When a man named Prot (Kevin Spacey) is hospitalized in New York City because he claims to be an alien from the planet K-PAX, it is up to Dr. Mark Powell (Jeff Bridges) to determine why he has this delusion. Prot is so convincing in his claims that it isn't long before Dr. Powell, and the audience, begin entertaining the possibility that Prot might just be who he says he is, a being who arrived here on a beam of light.
I once worked with a man who believed he was being hunted by the CIA. He showed me proof in the form of coded messages he had intercepted from newspaper classifieds and from letters sent to him by his parents, who were, he believed, cooperating with the authorities to have him captured. He was extremely competent, even gifted, at his job. Outwardly he gave every indication of being as "normal" as anyone. But as he learned to trust me and felt comfortable sharing his delusions, it became clear that he was not quite right in the head.
The National Institute of Mental Health says that 25% of American adults suffer from a diagnosable form of mental illness in any given year. Whether you know it or not, there are several among your neighbors, friends, and extended family who battle with depression, anxiety disorder, PTSD, OCD, bipolar disease, schizophrenia, and/or scores of other disorders of the mind. Untreated, any of these are debilitating. For the overwhelming majority, there are treatments but no cures. In many cases, mental illness is a lifelong, chronic condition that can be managed but never conquered.
In fact, there are certainly people sitting beside us in church on Sundays who are mentally ill, some of whom are barely holding things together. Rick and Kay Warren's son Matthew committed suicide recently after the pain of his lifelong struggle with depression became too great to bear. I've been there myself several times. I have struggled with depression since my teens, and at times it has filled me with such darkness and despair that I couldn't see a way out. As recently as six months ago, when my usual medication failed me, I wondered if I could escape from the darkness that gripped my mind.
Our theology of mental illness ought to be the same as our theology of physical illness: both are the result of Adam's rebellion and the sin that subsequently tainted creation. Mental illness is no different in its genesis than cancer or stroke or asthma or the common cold, because a mind is only the mysterious and wonderful creation of the brain and all its interactions with the external world over time. We are material beings created to live in a material world, with a soul that will last eternally. That material part of us is fragile and easily broken.
Paul says in Romans 8:24 that while we wait in hope for the transformation of our bodies and minds from material to eternal, the word hope necessarily means we wait for what we do not yet have. The miraculous healing of our minds and bodies is possible — God is able to do immeasurably more than all we ask or imagine (Eph 3:20) — but it seems more common for God to say to us, as he said to Paul, My grace is all you need for now, because My power is displayed in your weakness. (2 Cor. 12:9)
Regrettably, society stigmatizes men and women who suffer from mental illness. Popular culture makes it the subject of jokes and ridicule, while the church sometimes mistakenly ascribes a spiritual cause to what is a physical condition, a mistake that heaps guilt and shame on people who are already suffering.